School Wide Thursday 10 November 2016
Weekly eNews
School wide
A word from the Headmaster, Ross Featherston
Enhancing teaching and learning facilities
When I arrived at work on Monday morning, I received a real boost when I saw the scaffolding up around the Tower Wing in the Senior School: the builders were on site. As Senior School parents know, we have started a complete renovation of the 15 classrooms and three offices in the Tower Wing. These classrooms and offices will become stimulating spaces appropriate for Senior School boys and staff; teaching spaces that will be enablers as we continue to work towards enhancing our academic culture.
The Tower Wing redevelopment bookends the classroom building and renovations that are well underway in the Junior School. Here we are building two new classrooms for a new Year 5 class, as well as a classroom for our specialist subjects. This project will be followed by the renovation of six current classrooms to ensure they are a great environment for the Junior School boys. Again, we are working to ensure the places in which our teachers teach and our boys learn are the best they can be.
---
Yuletide tree trellis fundraiser 
These natural and handmade outdoor/indoor Yuletide Christmas tree trellises don't just look great – they also benefit BGS while supporting long-term unemployed youth through local not-for-profit social enterprise, The Grounds People.
Handmade from recycled wood, these Yuletide trellis trees are a great alternative for the festive season and make the perfect outdoor Christmas lunch feature piece.
At just $75 per tree, with $20 being donated back to BGS, it's easy to make a difference to someone who needs it this year.
Orders close 25 November for delivery direct to Brighton Grammar School on 7 December. For details and to place your order, visit www.groundscollective.com.au/brightongrammar.
---
Did you know?
2017 marks 100 years since the ship MV Aurora sank after (it is suspected) it was hit by a German mine off the coast of New South Wales during WW1.
What has that got to do with BGS you may ask?
MV Aurora, a Dundee Whaler, was the ship that sailed to Antarctica in 1916 to rescue Shackleton's expedition, which had been trapped in sea ice for 10 months. The plight of the expedition was dire as they were facing certain death but were saved thanks to the genius of Lionel Hooke (later Sir Lionel, BGS Old Boy and Hall of Fame inductee) who managed to successfully transmit a radio signal to the outside world prompting the MV Aurora's rescue voyage.
There was another Old boy involved in Ernest Shackleton's expedition, namely (Andrew) Keith Jack who attended BGS from 1897 to 1903.
Jack, was involved in placing supplies strategically to enable Shackleton to cross Antarctica on foot via the South Pole. 
He kept a meticulous diary and meteorological records and took many photos during the two years they were on the Antarctic Continent. Those records and photographs are in the possession of Melbourne University and were significant in the study and understanding of weather patterns in the Ross Sea.
Keith Jack died in 1966.
Andrew Biggin
Alumni Relations Manager and Executive Officer
Old Brighton Grammarians' Society
---
BGS Breakfast Bio: The Swim Kid 
1 December: 7am-9am
Dan Canta is the youngest male ever to swim the Triple Crown of open ocean swimming – the English Channel, the Catalina Channel, and the Manhattan Marathon. He's also a Year 11 student at BGS.
What inspires and motivates this young man to tackle such feats? Find out at the BGS Breakfast bio. Book your tickets by clicking here.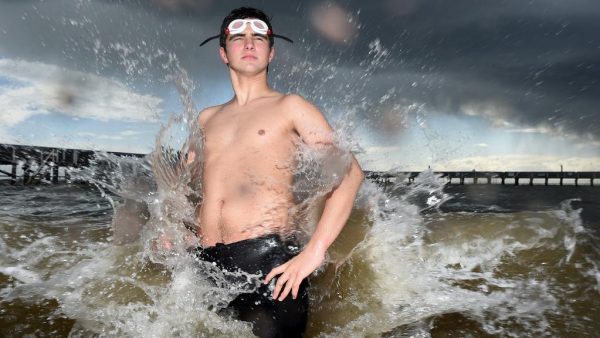 ---
An evening of relaxation at the BGS Wellbeing Centre
Let Emma and Dustin from Warrior One Yoga guide you through an evening of deep relaxation and transformation at the stunning new Wellbeing Centre at Brighton Grammar School.
As you shift through a restorative yin practice, ending in meditation, the sweet sound of live acoustic music will ring through the chapel, delighting your senses and allowing you to completely surrender into deep rest and relaxation.
Also included: a beautiful yin practice with massage assists; an exclusive gift to take home; and decedent delights to share after the practice.
When: Wednesday 30 November
Time: 6.30pm – 8pm
Where: Wellbeing Centre, Allee St, Brighton Grammar School 
Investment: $65
Places are limited. Book your spot on the mat today.
---
Second hand uniform shop opening hours Term 4
The second hand uniform shop will be open for sales and intake on:
22 November 2pm to 4pm
30 November 2pm to 4pm.
We will open for intake only (no sales) on 12 Dec from 10am to 2pm. We will also be open on 13 December for sales only (no intake) from 10am to 2pm.
Please note: we are no longer accepting light grey trousers or shorts as they cannot be worn next year. Also, blazers and reefer jackets must be dry cleaned prior to sale.
---
Collecting unwanted school items for students in need
We are collecting unwanted textbooks (no more than three years old), novels, calculators, stationery, tablets, etc. to distribute to students in need in Victoria. Please leave them on the verandah at 21 Cole Street, Brighton, 24/7. For further information, call Barbara on 03 9596 6661. Thank you in advance for your kind donation.
---
'Pop-up' parties: important safety notice from Victoria Police
We have received information from Victoria Police about local 'pop-up' parties and social gatherings being organised via social media which are unsafe for the young people attending.
These parties are being hosted in private homes, abandoned buildings and public halls across south eastern and eastern Melbourne.
Victoria Police acknowledges that many young people are also attending safe parties.
However, Victoria Police has made a number of recommendations to ensure young people can safely attend local gatherings:
Talk to your children and be mindful of where they are.
Be vigilant around monitoring all of your child's social media accounts (consider there may be multiple accounts) and look online at any events your child wants to attend.
Investigate any party your child is attending, and be satisfied of where your child is and who they are with. If a party location is unknown one or two weeks prior to a party date, this may be of concern.
Underage alcohol drinking and drug use is not recommended.
 If you have any information that may assist police, phone Crime Stoppers on 1800 333 000.
 If you are concerned that your child has been the victim of a sexual assault and may require support, please contact Centre Against Sexual Assault on 1800 806 292.