School Wide Thursday 16 February 2017
Weekly eNews
School wide
A word from the Headmaster, Ross Featherston
A big BGS birthday and an open door
Tuesday marked BGS's 135th birthday. On 14 February 1882, our founding Headmaster Dr George Henry Crowther opened the School with two boys enrolled. By the end of the day, the number of students had quadrupled to eight.
Dr Crowther was kind, patient, approachable, hardworking and community minded – the antithesis of the traditional 'Victorian schoolmaster'. Under his guidance, BGS engendered a sense of belonging – Dr Crowther's little school was like a big family. Dr Crowther championed an all-round education, where boys would 'learn to learn'. He also believed that learning wasn't just for school; it was for life.
Interestingly, despite the significantly increased enrolments, the core values at BGS have changed very little since Dr Crowther's time. BGS still prides itself on instilling a sense of belonging, providing an all-round education, and inspiring a lifelong love of learning.
I hope that the re-commencement of the 'Meet the Headmaster' sessions, will foster a similar sense of belonging in BGS parents. The sessions will take place on Friday afternoons from 4pm to 5pm for 30-minute appointment blocks and I am delighted to discuss any aspect of BGS with you. Simply reserve a time with my Executive Assistant Michele Fisher: mfisher@brightongrammar.vic.edu.au. Of course, this invitation does not replace the expectation that parents will contact relevant staff about their son/s as the need arises. I look forward to catching up with many of you soon.
---
Australian Design Review celebrates BGS's Wellbeing Centre
The BGS Wellbeing Centre has been featured in the prestigious Australian Design Review as a leading example of beautiful design that also successfully promotes wellbeing. The new space helps the boys develop their emotional intelligence, and improves the School's culture of positive masculinity. See the full story here.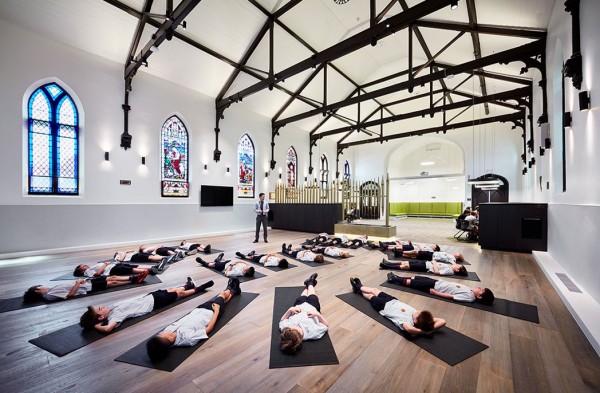 ---
iDesign superstars are coming to your TV screens
This Saturday morning at 8am, three BGS Year 9 boys will feature on the popular science show Scope, on channel Eleven. Late last year, the crew from Scope filmed a whole episode of the program around the amazing iDesign projects of Jaikob Akinci (candle-powered phone charger), Jeremy Booth (bike-powered generator) and Reuben Cook (laser harp – see photo below). If you don't catch the episode on Saturday morning, click here to see it on the Tenplay website after it airs.
---
'Nudging' boys towards healthier choices
Senior School boys showed their commitment to wellbeing this week, pedaling hard to blend (and earn the chance to drink) their own healthy lunchtime smoothie. The initiative was organised by Spotless, the organisation that encompasses BGS school caterers Alliance. It is part of the Australia-wide health and wellbeing program Nudge, which encourage Victorian students to make good lifestyle choices when it comes to food and exercise.
Nudge includes creative initiatives that promote physical activity and mental wellbeing, such as games, apps, challenges and educational lessons. The program also incorporates nutritious menus and recipes developed in collaboration with Nutrition Australia and created by dietitians and experts to reflect the needs of growing minds.
To find out more about the Nudge program, visit the Spotless website.
---
Camps, Sports and Excursions Fund (CSEF)
Families holding a valid means-tested concession card are eligible to apply for a payment of $125 (primary students) or $225 (secondary students) to be paid directly to the School (the amount of which will be deducted from your fees) for use towards camps, sports and excursion costs for the benefit of the student. A special consideration category also exists. Information about the CSEF program can be found here. 
Please contact the Accounts Department on 03 8591 2213 to submit an application on your behalf.
---
BGS Parents Group update
The first meeting of the BGS Parents Group for 2017 saw a strong turn-out of parents from across Middle and Senior Schools.  It is encouraging to see that dozens of parents have come on board to offer their time and talents to contribute to our sons' wellbeing through the variety of roles within the wider parent group.
Please click here for the full list of year level representatives. If you would like a copy of the minutes, the amended BGSPG Charter and/or the BGSPG Organisation Structure from the first meeting, please contact BGSPG Secretary Harb Gill: harbkaurgill@gmail.com. The BGSPG executive team position descriptions are available on the BGS website – click here.
The next BGSPG meeting will be on Monday May 1 at 7pm in the Hay Lecture Theatre in the Senior School. All Middle School and Senior School parents are invited to attend.
---
Get social with BGS
Did you know that BGS is on Facebook and Twitter (with Instagram coming soon)? Follow us for BGS news, views and celebrations.