School Wide Thursday 28 April 2016
Weekly eNews
School wide
A word from the Headmaster, Ross Featherston
The joys of learning
In order to enhance my understanding of the teaching and learning processes our Junior School boys experience, I have started spending some time in every Junior School classroom. The teachers do not change their plans because of my visits: rather I simply slip in and join in with the activities.
Last week I visited 1 Banksia as the boys learned about adjectives via describing their favourite superhero. This week I visited 3 Burke and helped the boys during their literacy block. In both visits (and my visits last term to 6 Investigator and Prep Fivedale) the boys' engagement levels were excellent. Clearly the boys are enjoying their learning.
The enjoyment and engagement I have witnessed is not just pleasant to observe; it's vital. Junior School sets a foundation for learning – a foundation that, if strong enough, will be the cornerstone of each BGS boy's educational experience in Middle School, Senior School and beyond.
My visits are cementing the fact that the Junior School boys and teaching staff are building firm foundations for a fantastic future.
---
Did you know?
Having just observed ANZAC Day with the very moving service in St Andrew's last Friday and the ANZAC Day holiday on Monday of this week, it is timely to remember our Old Boys who made the supreme sacrifice at Gallipoli.
In all, nine Old Brighton Grammarians died in that terrible campaign.
Thomas Partridge and John Tovell aged 40 and 26 respectively, were killed in action during the initial landing at ANZAC Cove on 25 April 1915.
Malcolm Brown aged 21 was seriously wounded in the initial landing and recorded as missing.  He was declared 'Killed in Action' on 2 May 1915.
Frank Hooke, aged 26, was wounded in the landing on the first ANZAC Day and died of his wounds on 3 June 1915.
The other five who died at Gallipoli were: Alfred Allard 23, Eric Armstrong 22, George Grimwade 20, Humphrey Moule 22 and James Telford 22.
In all, 118 Old Brighton Grammarians died at war, one in the Boer War, 52 in WWI and 65 in WWII.
They did their duty and paid a terrible price in order that we may enjoy the freedom and lifestyle we do today. Our duty is to remember their sacrifice forevermore.
Lest we forget.
Andrew Biggin
Alumni Relations Manager and Executive Officer
Old Brighton Grammarians' Society
---
Catch Paralympic champ Dylan Alcott OAM at the BGS Breakfast Bio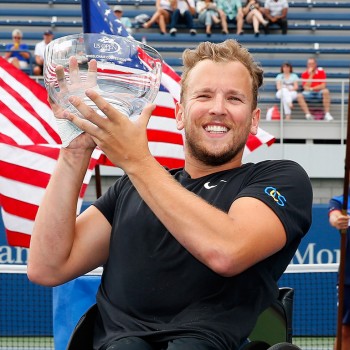 Not many athletes can lay claim to a Paralympic gold medal and a world championship before their 20th birthday.
Then again, there aren't many athletes like the crowd-surfing, wise-cracking Dylan Alcott, OAM.
Join BGS Old Boy Dylan Alcott OAM on Wednesday 11 May as he shares his story, challenges perceptions of those with disabilities, and inspires you to become the best version of you.
---
Don't miss Ross Featherston and Bruce McLellan on 2 May
Hear from Headmaster Ross Featherston and BGS Sea Change program pioneer Bruce McLellan on Monday 2 May at 7pm.
Ross and Bruce will be presenting as part of the BGS Parents Group meeting, which will take place in the Hay Lecture Theatre, Senior School. All parents are welcome to attend.
---
Snowsports information night – Wednesday 11 May
If your boy is interested in taking part in the BGS snowsports team in 2016, please come along to our upcoming information night on Wednesday 11 May at 7.30pm in The Nexus, Middle School.
Parents take an active role in BGS snowsports, including accommodation, supervision and assisting with duties.
If you can't make it to the night but would like to register your boy, please contact Andrew Braddy, TIC Snowsports, abraddy@brightongrammar.vic.edu.au. For more information about the practical aspects of being involved in the team, please contact Jane Abbott on 0408 590 963 or janea@insys.com.au
---
Wind, Brass and Percussion Concert: 3 May
Next Tuesday 3 May, the Wind, Brass and Percussion Concert will take place in St Andrew's Church at 7.30pm. The concert will feature performances by the Senior Concert Band, Intermediate Concert Band, Middle School Concert Band, Senior Big Band, Intermediate Stage Band and Percussion Ensemble. A raffle will be held at this concert as a fundraiser for the Friends of Music.
The Friends of Music will also host pre-concert drinks in the Atrium at the Senior School. Drinks from 6.50pm to 7.20pm. This is a great chance to mix with parents of fellow musicians and relax before attending the concert. All money raised goes to the Friends of Music for the purchase of a new bassoon, which will cost in excess of $6000.
We look forward to seeing you on the night.
---
Tour the NGV's 200 Years of Australian Fashion exhibit
Staged across four large galleries, 200 Years of Australian Fashion celebrates Australia's unique voice and impact on the fashion industry internationally, showcasing the work of contemporary designers such as Dion Lee, Ellery, Romance Was Born and Toni Maticevski alongside key designs from the past 200 years, including exquisite examples of historic design.
Join us on 5 May at National Gallery Victoria, Federation Square. Meet at the gallery at 10.45am to join a guided tour of the exhibit at 11am. The tour is sponsored by BGS International Parents Group and BGS Senior and Middle School Parents Group and is open to all BGS parents.
Tickets are $21.50 and can be purchased via Trybooking. 
---
Diamond pendant raffle
Don't miss out on the Junior School Gala Ball raffle on 27 May, where you can win an exquisite diamond pendant valued at over $11,000. Raffle tickets are limited to 400 and at only $50 per ticket, they're sure to sell out fast.
Tickets are now available via Trybooking.
---
New 2016/2017 Entertainment™ Memberships now available
The new Entertainment™ Memberships are available now and are packed with thousands of up to 50% off and 2-for-1 offers that you can use until 1 June 2017. Flick through to preview the value here.
Choose between the popular Entertainment™ Book with Gold Card and Vouchers, or the Entertainment™ Digital Membership that puts the value of the Book on your smartphone.Click here to order.
We receive 20% from every Entertainment™ Membership we sell, which contributes to the JPG fundraising goals. The more Memberships we sell, the more we raise so please tell your family and friends. Thank you for your support.
---
Wicks Club hockey season launch and BBQ – Saturday 30 April
All BGS supporters are invited to join The Wicks Club, BGS hockey, at the launch of the 2016 hockey season at Brighton Secondary College this Saturday 30 April between 8am and 12pm. Please see the flyer for more details.
We have four games at home this week and look forward to players and supporters coming along to all matches.
If you have any queries please contact either Jenny Collie jennycollie@iinet.net.au or Luke Stewart lstewart@brightongrammar.vic.edu.au.
---
Music news
Private music lessons
A friendly reminder to please ensure your son checks his instrumental timetable so he is aware of his lesson time. If your son is unable to attend his scheduled lesson time, teachers need to be notified at least 24 hours in advance (excluding emergencies). It is each boy's responsibility to check his timetable and try and swap with another student if he is unable to attend his lesson.
Term 2: Music dates for the diary
Thursday 28 April – Orchestral, Guitar and Choral Concert at St. Andrew's (MS/SS)
Tuesday 3 May – Wind, Brass and Percussion Concert at St. Andrew's (MS/SS)
Wednesday 20 April to Friday 22 April Years 7-9 Musical (SS) Hosted by Firbank
Friday 6 to Sunday 8 May – Senior Big Band at Generations in Jazz at Mt. Gambier (SS)
Friday 6 May – Mother's Day Service: 8.40am – Borwick House Choir performance (JS)
Thursday 19 May to Saturday 21 May – Years 10 to 12 Senior Musical (SS) Hosted by BGS
Tuesday 24 May – Unit 3 Music Performance Solo Recital 4pm St. Andrew's Church/Senior Rehearsal Studio (SS)
Thursday 2 June to Friday 3 June – Junior Music Camp at Rutherford Park (JS)
Tuesday 7 June – Years 3 to 6 Choral and Instrumental Concert at St. Andrew's 7.30pm (JS)
Wednesday 8 June – Friends of Music AGM, 7pm in the Senior Music Centre
Wednesday 15 June – Piano Students' Soiree, 4pm Senior Rehearsal Studio (JS/MS/SS)
Friday 17 June – JS End of Term Assembly – WH Concert Band and String Orchestra Performance (JS)
Jamie Ransome
Director of Music