School Wide Thursday 3 November 2016
Weekly eNews
School wide
A word from the Headmaster, Ross Featherston
Finish as a you start
For me, the Melbourne Cup long weekend is an indicator that the finish line for another school year is in sight. The weather may not have shown it (until today), but summer is only just over four weeks away and, if my calculations are correct, we have 25 days of school left.
Growing up in Ballarat, I had a fairly tough but fair football coach whose favourite form of getting us into shape was to have us run 400-metre repeat 'sprints'. I can still vividly recall his mantra of ensuring that we finished each 400-metre lap as we started it. After all, he would remind us, if you can run 390 metres, why can't you run the full 400?
2016 has been a good year: it's important we finish it off well.
---
The Swim Kid to speak at BGS
For the first time in BGS history, one of our students will speak at the BGS Breakfast Bio on 1 December from 7am to 9am.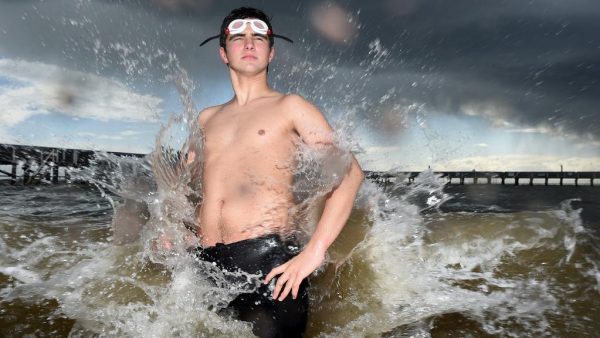 Dan Canta (Year 11) is making waves around the world. He's the youngest male ever to swim the Triple Crown of open ocean swimming – the English Channel, the Catalina Channel, and the Manhattan Marathon.
He's also the subject of a new documentary, The Swim Kid. Not bad for a 17-year-old!
But what inspires and motivates this young man to tackle such feats? Find out at the BGS Breakfast bio. Book your tickets by clicking here. 
---
Yuletide tree trellis fundraiser 
These natural and handmade outdoor/indoor Yuletide Christmas tree trellises don't just look great – they also benefit BGS while supporting long-term unemployed youth through local not-for-profit social enterprise, The Grounds People.
Handmade from recycled wood, these Yuletide trellis trees are a great alternative for the festive season and make the perfect outdoor Christmas lunch feature piece.
At just $75 per tree, with $20 being donated back to BGS, it's easy to make a difference to someone who needs it this year.
Orders close 25 November for delivery direct to Brighton Grammar School on 7 December. For details and to place your order, visit www.groundscollective.com.au/brightongrammar.
---
An evening of relaxation at the BGS Wellbeing Centre
Let Emma and Dustin from Warrior One Yoga guide you through an evening of deep relaxation and transformation at the stunning new Wellbeing Centre at Brighton Grammar School.
As you shift through a restorative yin practice, ending in meditation, the sweet sound of live acoustic music will ring through the chapel, delighting your senses and allowing you to completely surrender into deep rest and relaxation.
Also included: a beautiful yin practice with massage assists; an exclusive gift to take home; and decedent delights to share after the practice.
When: Wednesday 30 November
Time: 6.30pm – 8pm
Where: Wellbeing Centre, Allee St, Brighton Grammar School 
Investment: $65
Places are limited. Book your spot on the mat today.
---
Second hand uniform shop opening hours Term 4
The second hand uniform shop will be open for sales and intake on:
9 November 2pm to 4pm
22 November 2pm to 4pm
30 November 2pm to 4pm.
We will open for intake only (no sales) on 12 Dec from 10am to 2pm. We will also be open on 13 December for sales only (no intake) from 10am to 2pm.
Please note: we are no longer accepting light grey trousers or shorts as they cannot be worn next year. Also, blazers and reefer jackets must be dry cleaned prior to sale.
---
Collecting unwanted school items for students in need
We are collecting unwanted textbooks (no more than three years old), novels, calculators, stationery, tablets, etc. to distribute to students in need in Victoria. Please leave them on the verandah at 21 Cole Street, Brighton, 24/7. For further information, call Barbara on 03 9596 6661. Thank you in advance for your kind donation.