School Wide Thursday 8 September 2016
Weekly eNews
School wide
A word from the Headmaster, Ross Featherston
Strengths Based Parenting Program at BGS
Next to being healthy, we all want our children to be happy, resilient and have the mindsets and qualities needed for success. Fortunately, we now know that these are all learned behaviours – skills that we as parents can help our children build and maintain.
As part of our commitment to building a culture of wellbeing at BGS, I am delighted to announce a new strengths based parenting workshop series for parents of BGS boys in Years 5 to 8, which will commence in Term 4. Through the series, you will learn to:
Identify, use and cultivate strengths in yourself and your children
harness the power of positive emotions for learning, connecting, creating and relating
understand how the brain functions at various ages (and how to use this to your advantage)
unlock the magic of mindsets for success
use and teach tested strategies to manage stress when it is not serving you well.
BGS will subsidise 50% of the workshop series fee, but places are limited. Don't miss this fantastic opportunity to support your son on his wellbeing journey.
Click here to find out more about the Strengths Based Parenting Program or see School Stream for more information.
---
Tracking reviews reminder: Years 6, 8 and 12 parents
If you haven't already, please make you have your say in the BGS 2016 tracking reviews, which are being conducted by MMG Education. Your responses are confidential.
Please refer to the email MMG Education has sent to current Year 6, 8 and 12 parents, which includes a link to an online questionnaire. Your open and frank input will help us further improve the quality education BGS provides your son/s.
---
St Andrew's Choir Dinner this Saturday
Saturday 10 September: 2016 St Andrew's Choir Dinner at St Andrew's Hall.  All welcome at this special evening featuring musical performances.  For more information and to book click here. 
---
BGS Facebook – follow us today!
Want to 'Brighton' up your Facebook feed? Visit and like the BGS Facebook page to see more student achievement stories, updates and photos. 
---
Did you know?
Cramer Walk was a street that once ran between New Street and Outer Crescent.
In 1963, through an Act of the Victorian Parliament, Cramer Street was closed and the walkway (Cramer Walk), which exists today, was established.
The most significant impact of the closure of Cramer Street was that it enabled the School to significantly enlarge the Crowther Oval at the Southern end.
The original path of Cramer Street can be easily seen by looking at the vacant piece of land between Annandale Pavilion and the rear of the R L Rofe Creative Arts building. Nothing has ever been built on that section at the Outer Crescent end of Cramer Walk and it represents the width and line of Cramer Street. 
If one imagines a straight line along the northern edge of that portion of land, continued to New Street, the amount the School was able to enlarge the Crowther Oval can easily be envisioned.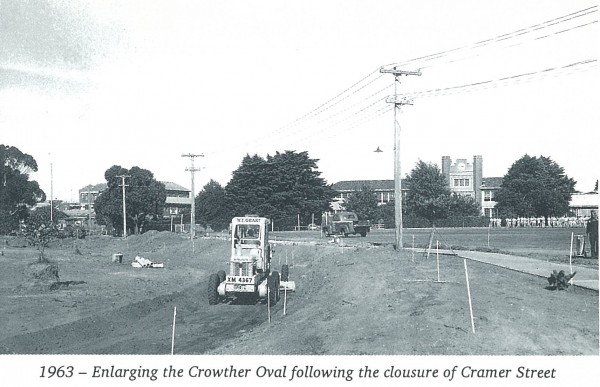 Andrew Biggin
Alumni Relations Manager and Executive Officer
Old Brighton Grammarians' Society
---
Connor's Run update
Now in its 4th year we are proud that, with Brighton Grammar School's support, Connor's Run is now the largest event for paediatric and young adult brain cancer in all of Australia. If you'd like to find out more about how you can support Connor's Run, please click here.
One of our key focuses this year will be supporting will be supporting the creation of a brain tumour molecular subtyping service – a first for Australia at Monash Children's new Cancer Centre. This is led by BGS Old Boy and Hall of Fame recipient Peter Downie.