Senior School Thursday 21 April 2016
Weekly eNews
Senior School
A word from the Headmaster, Ross Featherston
The power of the outdoors
BGS's Outdoor Education program is a key element in our vision of teaching boys to be successful men. This year we decided to remodel a key aspect of our Year 9 Sea Change program: for the first time all boys in their first term of Year 9 undertook the 12-day Great South West Journey.
Led by our Head of Outdoor Education, Cam Barry, we linked with Nick Covelli (better known to the Year 9 boys as 'Bear') from Brainsick Productions to capture through video this inaugural experience. This four-minute video expresses the experience of the Great South West Journey for our Year 9 boys so well. However, it also expresses the broader aims of Outdoor Education program, and indeed the aims of BGS, in developing young men of passion, integrity, accountability and respect.
So whether you're a parent or part of the broader BGS community, I highly recommend you take a few minutes to view this inspiring video.
---
From the Head of Senior School, Ray Swann
This week in Senior School our message has focused on some very simple aspects of learning. In assembly, the boys were updated on what the staff had been learning about at the professional learning session on Friday (which were some of the key drivers of academic performance). The boys were shown that the following are amongst the highest research based influences that improve outcomes:
Setting own goals (which we do and then follow through with our coaching days and pastoral program).
Relationships (to work at establishing these with teachers and other boys who want to do well).
High expectations (that our teachers have them and will continue to challenge with them).
Clarity (that all of our lessons have clear learning intentions and success criteria).
Behaviour in the classroom must be excellent (so for the boys this means getting on with the job of learning).
In terms of the cultural development of the Senior School, our prefects spoke about 'sweeping the sheds' and the following video created by a team led by Arthur Xafis was shown:
Finally, in terms of growth and wellbeing, the Crowther boys led a chapel focused on 'transcendence' which was of a high standard. See the report from Fr Tony Poole below.
---
Don't forget to check the School Wide eNews
This week, School wide e-News includes information on: our upcoming BGS Breakfast Bio with Dylan Alcott OAM; the Junior School diamond pendant raffle; getting involved in Connor's Run; and this week's music news.
---
News from the Careers Centre
Items in the Career News include:
Morrisby Information Evening – Tuesday April 26
VCE and Careers Expo 2016
St. Andrew's College Scholars Program
News from Deakin University

Faculty of Arts and Education Update
Faculty of Science, Engineering, and Built Environment Update
Faculty of Business and Law Update

The International College of Hotel Management (ICHM) – Quick Facts
Career Focus Days at the Blue Mountains Hotel School (BMHS)
Reminder: UMAT2016
Career in Focus: Project Management. 
To read more please click Career News 21 April 2016 or see me in the Careers Centre.
Sophie Keele
Careers Counsellor
---
Senior School Fundraising Committee
Summary of the activities organised by the Committee for Term 2:
ANZAC Day. We will be selling ANZAC badges, wristbands and bag tags throughout the week starting on Monday 18 April. You can help by buying an item at the Senior School reception.
Will Murray's special days on Thursday 28 and Friday 29 April 2016
The details of the specials days have been placed on The Hub and more information can be found in the School wide eNews. The boys are encouraged to support the cause by wearing casual clothes (with something orange) on Friday 29 April. Please note: Junior School's casual clothes day in support of Will Murray will take place on Tuesday 3 May.
Can you please help in baking a cake for Friday 29 April? We will sell them at recess for $2 per slice. All the cakes can be given to Ms Beguin on that morning (her office is in front of H2).
Brain Week: 1-7 May
At an assembly on Tuesday 3 May, a presentation will be made and activities will be offered. On Friday 6 of May, we will encourage the students to have a 'Go Grey in May' day by wearing casual clothes with something grey.
Ute Full of Food: Friday 13 May
On this day, we will collect all the food donated and drive to Fitzroy Community Centre. There is also a casual clothes day in support of Will Murray. This is an initiative of Bayside Schools and represents a wonderful level of support from the broader community.
---
From the Chaplain
House-led chapels are always opportunities to surprise and push the boundaries of our perceptions and expectations.
The worship constructed and facilitated by the leaders of Crowther House did all that and did not disappoint.  The theme they chose to explore was 'transcendence'.
As a concept, transcendence has a diverse range of meanings not limited by applications in philosophy, mathematics and theology. It also contains suggestions of superiority and self-perception in relation to a much larger entity.
Through music, explanation, commentary, poetry and meditation, the leaders of Crowther House grappled with complex and profound ideas in a manner that offered entertainment and engagement for all gathered in chapel.
They identified 'transcendental' awareness through:
1. appreciation of beauty and nature
2. hope
3. gratitude
4. spirituality
5. humour.
Thanks to Nick Knight, Lachie Collie, Simon Farrow, Justin Branson, Zach Warren, Henry McDowell, Ben Durkin and Hamish Whillas for their effort and thought. May the transcendent God bring you peace and blessings.
Fr Tony Poole
---
BGS Parents Group meeting
Monday 2 May at 7pm, Hay Lecture Theatre, Senior School
Ross Featherston and Bruce McLellan will be presenting at our next meeting, with Bruce presenting an overview of the Duke of Edinburgh Award Program. All parents are welcome to attend.
---
Year 12 Parents' Book Club
The Year 12 Parents' Book Club will be held in the Hancock Wing at 7pm on Tuesday 17 May.
The aims of our book club are to:
demystify Year 12 English
provide you and your family with opportunities for dinner conversations about the 'big ideas' in the set texts
have fun and talk about books.
The text is Arthur Miller's play, Death of A Salesman. Everyone is welcome. For catering purposes, please RSVP to kmolloy@brightongrammar.vic.edu.au
Kristen Molloy
Head of English
---
Sporting achievements
Australian U20 Rugby Union
Congratulations to Billy Gray who has been selected to play for the Australian U20 Rugby Union side to play in the Rugby World Cup. Billy was our 1st XV Captain in his final year at school and since then he has gone on to play for the Rebels and Power House 1st Grade. We are incredibly proud of Billy and all the hard work he has put into achieving this honour. He is a great role model for our junior players and shows everybody what can be done through hard work and determination.
Billy is currently passing on his knowledge of the game to the U14 and U16 BGS rugby teams whom he is coaching this year.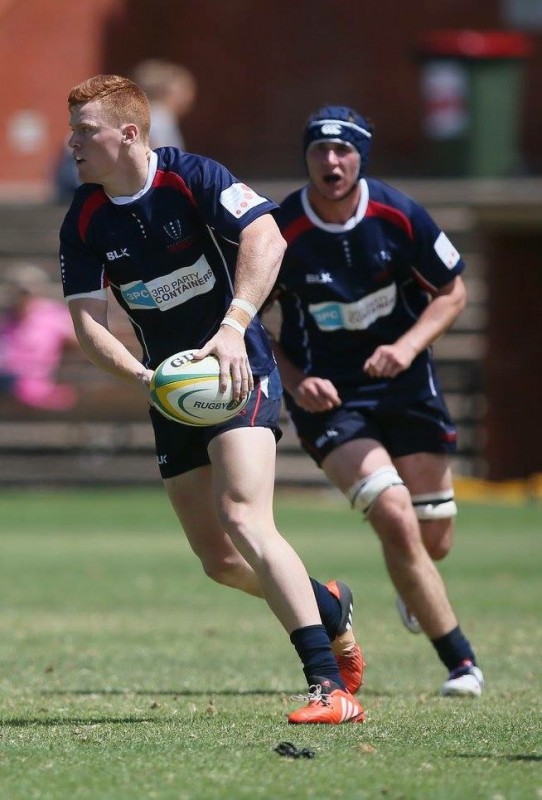 Peter Whitehead
Head of Faculty HPE & PEB
---
Music events and pre-concert drinks
Over the next two weeks there are two exciting concert events taking place in in St Andrew's Church involving Middle and Senior School boys. For both events, the Friends of Music are hosting pre-concert drinks in the Atrium at the Senior School. Drinks will commence at 6.50pm. This is a great opportunity to mix with parents of fellow musicians and relax before attending the concert. All money raised goes to the Friends of Music who are trying to raise funds for the purchase of a new bassoon, which will cost in excess of $6000.
Orchestral, Guitar and Choral concert
The concert will commence at 7.30pm on Thursday 28 April and will be a part of the fundraiser for the Will Murray Foundation. A minimum $2 gold coin donation would be gratefully received (anything more would be wonderful) and 100% of the money raised will go to the foundation. The ensembles performing at this concert will include: Senior Symphony Orchestra, Corelli Orchestra, Cello Choir, Senior Guitar Ensemble, Middle School Strings, Middle School Guitar Ensemble, Senior School Choir and Middle School Choir.
Wind, Brass and Percussion concert
This concert will take place in St Andrew's Church on Tuesday 3 May at 7.30pm. Performances will be seen from the Senior Concert Band, Intermediate Concert Band, Middle School Concert Band, Senior Big Band, Intermediate Stage Band, Percussion Ensemble. A raffle will be held at this concert as a fundraiser for the Friends of Music.
We look forward to seeing you at the concerts, and for a pre-concert drink.
---
Senior School dates for the diary
Friday 22 April
Chess World BGS Cup #1  9am–2.30pm
ANZAC Eve Service 9.30am-10.30am
Saturday 23 April
Winter team sport round
Saturday 23 April – Sunday 24 April
Outdoor Education Units 1/2 field trip (Cathedral Range Hike)
Monday 25 April
ANZAC Day public holiday
Tuesday 26 April
Year 10 Morrisby Information Evening  7pm-8pm
Year 10 Outdoor Education Information Evening  8.30pm-9pm
Wednesday 27 April
DAV Debating, Round 2 of 5 – 5.30pm-9.30pm
Thursday 28 April
Orchestral, Guitar and Choral concert  7:00pm – 10:00pm
Friday 29 April
Casual/Wear Orange Clothes Day – fundraiser for Will Murray
For live updates on dates and events please click here.