Senior School Thursday 6 October 2016
Weekly eNews
Senior School
A word from the Headmaster, Ross Featherston
Energy through creativity and the arts
Welcome back to the final term of 2016. I hope you and your family had a wonderful break. The term has started with energy and enthusiasm, much of which has come from two key moments in our calendar relating to creativity and boys expressing themselves: the Year 8 iDesign week and our Senior School Creative Arts Show.
I am always blown away by the work our Senior School boys produce as part of the CDT, VCD and/or Art subjects. The passion, time and care they put in – and the pride they have in exhibiting their works – is superb and is a testament to the boys and their teachers.
The same goes for iDesign. To witness what our Year 8 boys produce is astounding. Whether it's a skate ramp, a computer built into a desk, a reconditioned motorbike, or an historical documentary about family, iDesign is a great example of a unique BGS program that enables the boys to develop the 21st Century skills they'll need for many careers in the future. Please come along to support the boys at our exhibition and presentation evening this Thursday (public viewing is available from 5pm to 6.30pm).
All the best for a great term ahead.
---
From the Head of Senior School, Ray Swann
'Some painters transform the sun into a yellow spot, others transform a yellow spot into the sun.'- Picasso
One of the highlights of our first week back is the Senior School Creative Arts show. The quality, diversity and insight that our artists presented was simply incredible.  The works showed great skill; they also demonstrated so many of the qualities that we wish to instil in all our the boys: persistence, determination and courage. The works displayed humour and pathos. Credit must go to Mr Martin Green and the members of the Faculty for the way in which they too (artistically) enable the boys to 'find' these works and to push them into new areas of creativity.
The focus for this term is 'legacy.' As the Year 12s finalise their studies this seems so appropriate. On returning to school we have all been greeted by our magnificent oak tree now in full bloom. The Quad looks beautiful with the new surrounds as generously donated by the BGSPG. The stage is set for a wonderful and moving finish to their time with us, before the examinations commence.
---
BGS/Firbank Year 9 combined dance classes
Across the last three weeks of term, 30 BGS and Firbank Year 9 students participated in an optional activity learning progressive dance.
Throughout the three sessions, the boys and girls learnt a series of sequences based around a number of different styles of dance. All students participated enthusiastically, not only upskilling their dance moves but developing great friendships with their peers from both schools.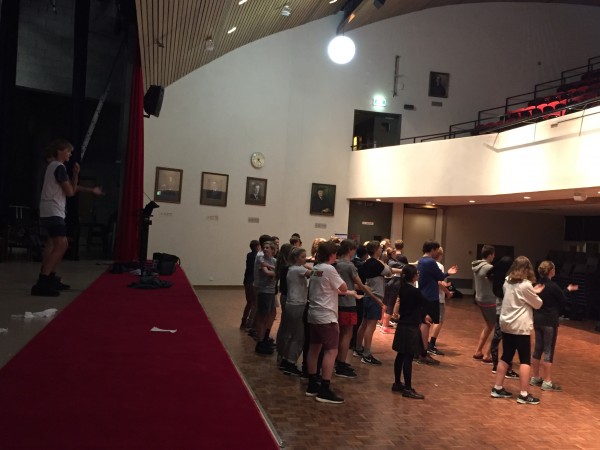 ---
Student achievements: National Champions in Gaelic football
Congratulations to Will Agius, Ben Branson, Hamish Dick, Jake Turner Jack Goodings, David Seager, Harry Reynolds (Year 10) who were members of the successful Australian Minors Gaelic Football team at the National Championship tournament in Queensland during the school holidays. The side consisted of boys from various schools that had come together to be coached by former AFL player, Brian Stynes.  The team went through the tournament undefeated and narrowly won the final by 2 points to be crowned National Champions.
---
Creative Arts Show
Last night BGS held the Creative Arts Show, with hundreds of people turning up to view the boys' work. Year 12 folios were on display from Art, Product Design and Technology and Visual Communication Design and everyone who attended was impressed with the amount and quality of work that had gone into these visual documents. There was an impressive range of artworks covering the walls of the art rooms, VCD finals incorporating architecture scale models and product design mock ups, and a plethora of designer quality timber furniture on display.
---
Senior School Fundraising Committee
Upcoming fundraising events
Thursday 20 October – PetRescue
PetRescue is a non-profit organisation on a mission to stop the killing of companion animals in Australia's pounds and shelters. All of the money we raise will support life-saving programs and projects to promote pet adoption and the humane management of orphaned pets.
Final entries for all competitions: Wednesday 19 October at 4pm. 
– Casual clothes day.
– Guess the number of jelly beans.
– Photo competition (match the pet with the staff member).
– Silent auction (portrait made by Nik Scriven, Year 12 student) – Please email your interest to Ms Beguin abeguin@brightongrammar.vic.edu.au.
– Sweets at recess for sale.
Silent Auction Portrait by Nick Scriven, Year 12
Friday 18 November – Ute Full of Food Special Christmas
Volunteers will collect all non-perishable food items kindly donated by students, staff and parents and will head to the Fitzroy Community Centre to make a difference in the life of so many. Thank you in advance for your generous donations. Let's make sure as many as possible have a nice Christmas lunch.
---
Career News
Items in the Career News include – 
VTAC Key Dates
Reminder: Early Achiever's Program at ACU
Tax File Number
News from Deakin University

New Bachelor of Software Engineering (Honours)
Deakin University Accelerate Program

La Trobe University VCE Plus Program
News from Monash University

Changes to Monash Psychology and Nutrition Degrees
New Bachelor of International Business Double Degrees
New Analytics Major under Bachelor of Commerce
Monash University Extension Studies

News from RMIT University

Live Production and Technical Services Course
RMIT University Extension Studies

News from the University of Melbourne

New Science majors under Bachelor of Science
New Core Subjects in Commerce
If you would like any further information on any of these items click here or see Sophie Keele in the Careers Centre.
---
From the Chaplain
The terms secular and non-secular (meaning religious) are part of the vocabulary in much of the commentary about the contemporary Australian society and culture.
It is often said that Australia is a secular or the most secular country.  The term secular originally comes from a description of a particular group of clergy and their work situation. It did not mean in any sense a non-religious perception of the world.  In practice, it referred to a group of clergy or religious people who were in the world.
It was not until the mid-19th Century that philosophers adopted the term to separate religion from political processes in particular. The term 'secular' subsequently became synonymous with verifiable scientific thought, on the questionable assumption that there was nothing in religious belief or practice that was verifiable.
What this development does not address is the definition of religion, or its antecedent 'spirituality'.  The concept of secularism is based on a notion that religion is not of or in the world: this is not a neutral or uncontested assumption.
The engagement with Chapel is a way for staff and students to appropriate a meaningful spirituality with the intention to promote the flourishing of each of us as whole persons, in a world where all things are inter-related and work together for the wellbeing of all.
To all I pray that Term 4 may be a time to flourish and come to a place of happiness and fulfillment.
Fr Tony Poole
---
Senior School dates for the diary
For updates on important dates and events, see School Stream or click here for the online calendar.