A coaching culture
At Brighton Grammar, learners set goals and develop the skills to achieve them. A fundamental part of the success the School has in this area relates to our coaching culture.
Many know coaching as a fundamental element in sport and  as a high impact form of staff development but coaching is part of the BGS way of being.  
As a school, we have been successfully engaged in adult coaching with teaching staff for many years.  Coaching, however, is not just for the staff.  Secondary students regularly engage in a coaching dialogue with their house tutors around their learning.  
Coaching is an opportunity for a student to build his independence and direct his own life.  The process of coaching is designed to promote self-empowerment in students, as well as improve academic performance and develop resilience.  It involves a structured conversation to help a student reflect, set goals, solve problems and plan next steps.
Some Year 5 and all Year 6 students are also given an opportunity to work with a trained Year 10 or Year 11 student coach to set personal goals, develop strategies, deal with obstacles and establish better habits.  
Year 10 students are offered an elective which trains them in leadership and basic coaching and Year 11 students have an opportunity to volunteer to coach a younger student.  
The volunteers are provided with more advanced coaching lessons which guide them through the coaching process from the perspective of both the coach and the coachee. The skills developed through both training programs include: building rapport; empowering self-reflection; questioning, and importantly effective listening.  
The older students use their coaching knowledge and experience to guide a younger boy through a period in his final years in the Junior School. Year 5 and Year 6 boys become more comfortable across the program with being coached, receiving feedback and engaging in conversations about their learning and progress.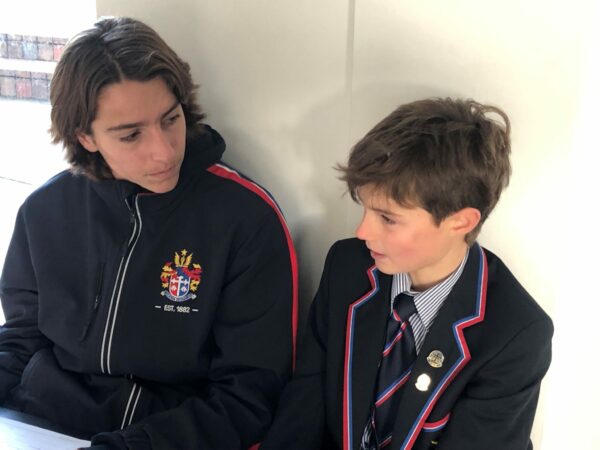 The younger students develop positive relationships with their Secondary School role models and look up to them for guidance. They build an ability to set achievable goals, measure their progress and to reflect on the effectiveness of the strategies they implement.  
The skills learned by Year 10 and 11 boys are applied beyond the coaching experience to student leadership programs, building peer relationships, captaining sporting teams and through improved communication with others in life beyond the school gates.  
Brent Brickhill
Instructional Coach & Student Coaching