We've compiled the publications, documents and forms you need onto one easy page.
If there's something you can't find here, don't hesitate to call us on 03 8591 2200. We're available to assist with any enquiries Monday to Friday, 8am – 5pm AEST.
Publications 
Meliora Sequamur
Our magazine for the BGS Community. If you'd like to be added to the mailing list, please contact Emily on 8591 2271 or email.
View the latest issue – Autumn 2019 (external link)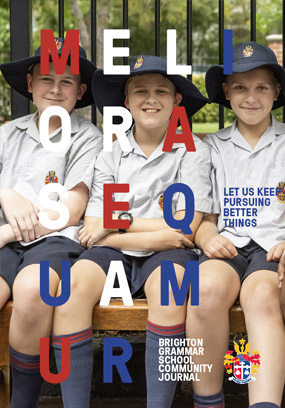 Older issues
Autumn 2018 (external link)
Winter 2017 (external link)
Summer 2017 (external link) 
Winter 2016 (external link)
Summer 2015/16 (external link)
Summer 2014/15 (external link) 
The Grammarian 2018
The Annual Brighton Grammar year-book with highlights and insights into the year that was. Designed to take pride of place on any bookshelf or coffee table and to be an instant collectible and suitable memoir of your time as a Brighton Grammarian. 
View the 2018 Grammarian(external link)
Older Grammarians
View the 2017 Grammarian (external link)
View the 2016 Grammarian (external link)
View the 2015 Grammarian (external link)
View the 2014 Grammarian (external link)

Documents
Handbooks and guides

   ELC Handbook (PDF)

  Junior School Handbook 2019 (PDF)

   Secondary School School (7-8) Handbook 2018 (PDF)

   Parent Group Supporters Guide 2018 (PDF)
School Policies
Forms

   Private Music Tuition Form 2019 (PDF)

   Musical Instrument Loan and Hire 2019 (PDF)
Documents