School Tours
Come and see for yourself!
The best way to get a feel for the School is to visit us and meet some of the boys, the staff and the Headmaster.
---
There are two main options for tours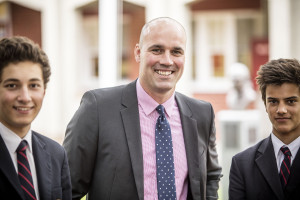 During the Headmaster's Tour you will take a 90-minute walk around the whole campus, which will give you an overall and authentic feel for the School. Every tour is different. Nothing is pre-planned. What you see depends on what is happening at the time.
However, what you will always get is an understanding of our approach to teaching boys, the strategic priorities of the School and why we do what we do. Along the way, our Headmaster Ross Featherston will introduce you to boys who happen to cross your path, and ask them to share a little of their BGS story. 
Numbers are limited and bookings are essential.
The Headmaster walks quickly so wear comfortable shoes!  
Children and prams are welcome. The Headmaster's Tour will run from 9am to 10.30am on the following dates. Tours start at the Junior School Reception. 
To book, please choose your selected date below: 
Friday 16 February 2018 – 

FULL
Wednesday 28 February 2018 – BOOK HERE Note: This is a Twilight Tour and will run from 5.30pm to 7pm. 
Friday 9 March 2018 –

FULL
Friday 16 March 2018 – 

BOOK HERE
Discovery Tours are an opportunity to see a specific area of the School, such as the Early Learning Centre, the Junior School or the Senior School, on an ordinary school day. You will meet the staff, see the boys in action and  learn about our teaching programs for your son. The tours start with a short presentation so please try to arrive on time. 
ELC and Junior School Discovery Tour
Families interested in the Early Learning Centre and/or the Junior School, please arrive at 9.30am for a quick overview presentation followed by a tour in one or both of these sections of the School.
Secondary Years Discovery Tour
Families interested in seeing our amazing Senior School and Middle Years facilities to learn about our specialist learning programs for boys are invited to attend the following tour.  
Secondary Years Discovery Tours have concluded for the present. If you would like to see our School, please register for a Headmaster's Tour or contact Rebecca in Admissions (details below) to arrange a personal tour.
Questions?
Please contact Admissions: admissions@brightongrammar.vic.edu.au or call Rebecca Darling on 03 8591 2202.   
One-on-one visits
Sometimes circumstances – such as visiting Melbourne from interstate – don't allow you to join a pre-scheduled tour. If this is the case and you would like to arrange a special one-on-one visit to the School, please contact the Admissions Office on 03 8591 2202.