A first for OB musician
On 5 November at the University of Newcastle, a world premiere performance took place. Paul Copeland's (OB 1963) award-winning piano composition, 'Audacious Binary Forms', was performed by Michael Kieran Harvey and streamed live. The piece was the winner of Australia's most prestigious piano composition competition, the Jean Bogan Prize for Piano Composition.
Firsts are not unfamiliar to Paul, who is a multi-genre composer, graphic artist, computer programmer, teacher and author. His compositional styles span a huge range, from neo-classical, jazz, ragtime and musical theatre to electronic, avant-garde, post-avant-garde and experimental. His work remains at the forefront of experimental multi-genre art, and he is an Associate Artist at the Australian Music Centre.
Now 70, Paul attended BGS from 1957 until 1966, when he left school for the Melba Conservatorium (where, he observes, he 'failed in all subjects except piano and harmony'). While at BGS, he learnt to play the St Andrew's organ while it was being built. After leaving the School, he coached some of the BGS hockey teams, including a team that won the premiership. Paul recently retired, having taught piano at two independent schools for the last 18 years.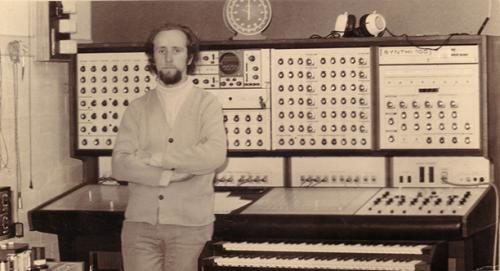 Paul's musical credits include a performance by members of the Australian Ballet School, which included a montage of his electronic and instrumental music. Although much of his music is highly complex, he also enjoys composing easy piano works for children. He says he would love to compose a piece specifically for the St Andrew's organ.
Paul's website is at www.paulcopeland.com.au.