At the top of our game in winter sports
We have much to be proud of – and it's not over yet.
It has been an amazing winter season of Senior Sport in 2017. Our boys continue to favour team sports as they seek the social and emotional benefits of striving for, achieving and celebrating successes with their peers.
The achievements began with our 1st V Basketball graduating to play their inaugural season in the APS 1st Division. The boys acquitted themselves extremely well in the elite competition. Our basketball teams have grown in number from two Year 7/8 groups (three years ago) to three teams at Year 7/8, three at Year 9/10 and two in open competition. With our 7/8A team completing an undefeated season for the first time, we look forward to more success in the near future.
Soccer (270 boys) and AFL (250 boys) continue to be our most popular sports. We excelled on the soccer pitch, finishing second. After three consecutive premierships, we finished fifth in AFL, winning our last six games in a row. Our 7A team achieved an undefeated season and our AFL development program continues to produce extraordinarily talented players, while providing opportunities for the boys to play the game they love.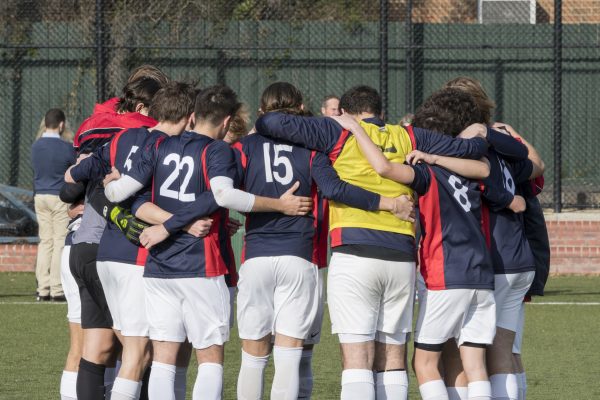 In Cross Country, the Middle School boys won the Year 8 APS Junior Cross Country and the Year 7s finished second. Again, we watched our boys performing at high levels, working together as a team and achieving success.
In Hockey, BGS made the finals under a new system. The boys were outstanding, rising from disappointing results last year to finish third overall. The game against Carey (eventual premiers), in which we lost narrowly 4–3, was described by many as the game of the season.
This week, the School is full of anticipation as we prepare for the 1st XV Rugby VSRU Grand Final, to be played at Haileybury on Saturday. Our team have had their most successful season in recent memory. After suffering numerous defeats in 2016, the team has turned its fortunes around in an outstanding display of the power of hard work, determination and belief. Our rugby program's success this season rests on the passion and commitment of our staff, Josh Moore (Teacher in Charge of Rugby), Biddy Duckham (1st XV Manager), and Eric Thom and Brian Scott (Coaches), as well as the wonderful support of the parent group, led by Jeremy Canham.
Sport continues to offer our boys the physical, cognitive and social/emotional challenges that aid their personal development and we are very proud of what all of our players, coaches and support staff have been able to achieve in 2017.
Go Tonners!
Luke Stewart
Director of Sport