Austin in Top Arts 2020
Technology has brought us closer to many of the great museums and galleries of the world, and Melbourne's NGV is no exception.
The VCE Season of Excellence – Top Arts celebrates the best work from VCE Art students across a range of artistic mediums. COVID-19 has meant the exhibition has been brought online this year, and the NGV has done an amazing job providing an overview by the curator David Menzies (pictured above), as well as three videos touring the exhibition.
The amazing student works can also be virtual tour in the comfort of your home, including that of JiaHua (Austin) Zou (OB 2019), whose work 'Fractured' is an impassioned plea for peace.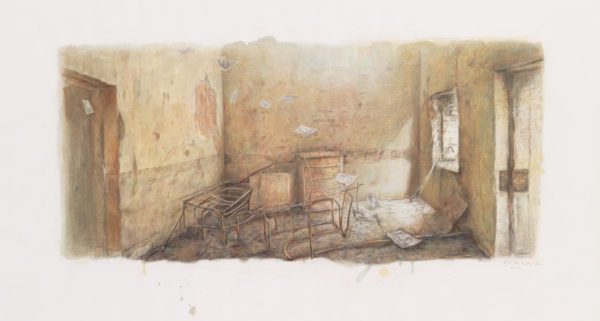 Other resources, exploring student folios are available and an interview of Austin is provided.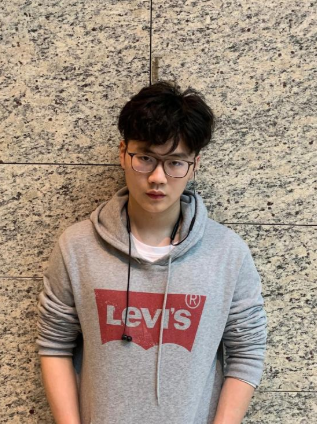 Ideas behind the work …
Fractured highlights the horrible devastation and inhumanity of war by showing how the Kosovo war impacted innocent people's lives. The drawing serves a strong anti-war message, reminding contemporary audiences of the Kosovo War and the human suffering it caused just 20 years ago.
Once I had decided to create an artwork to highlight this conflict, the challenge was how to go about it in a respectful and meaningful way. I aimed to show the loss of life without being graphic or blunt, so the artwork depicts a destroyed home. The burnt marks, distorted poles and dilapidated ground create a desolated atmosphere and represents the doomed future of this family. The floating black and white family photos remind us of photos we have for funerals, suggesting the death of the family and implying victims' complete lack of power and agency in a turbulent society. Home does not exist anymore when their place to live has been destroyed and their loved ones have died. I initially explored the relationship between 'victors' and the 'losers', but I came to realise that no one actually wins in war. This painting is an elegy to their death and the memories of the living.
Materials and processes …
This artwork is created on paper using watercolour and coloured pencil. I started with watercolour because its transparency and muted tones fits the war aesthetic. Using the water stain of watercolour, I created the mottled and peeling wall in the background to provide a base tone for the scene. I then added more detail using coloured pencil: texturising the ruins, emphasising focal points by rendering them a darker colour, and refining structures. The photos of families are drawn using black coloured pencil. Instead of adding detailed facial features, I blurred their faces to present them only as groups of families or forgotten names who once had peaceful and harmonious lives but now interrupted by war.
This is the first final that I have completed using watercolour, and I have only been practicing using it for 6 months. Being selective and deciding when to use either colored pencil or watercolour was a challenge.
Starting points and influences …
Taking inspiration from war poet Winfield Owen, who focused on loss instead of heroism in wars, I researched recent wars and conflicts. I started by looking at themes of war and memories. Fractured is inspired by the 1999 Kosovo war which caused millions of deaths in Serbia. During the Kosovo war, the region received 78 days of inhumane air raids by NATO, 1,500 Kosovar Albanians died and 40,000 innocent people were forced to leave their homeland. Their tragedies motivate me to warn people of the consequences of war. During my VCE art course, I investigated many artists from both historical and contemporary practices. Artists which stood out to me were Caravaggio, Goya, Shirin Neshat and Ray Beattie, who all depict violence, fear and war in different ways. Cai Guo-Qiang's exhibition at the NGV also inspired me to pursue a career in visual art.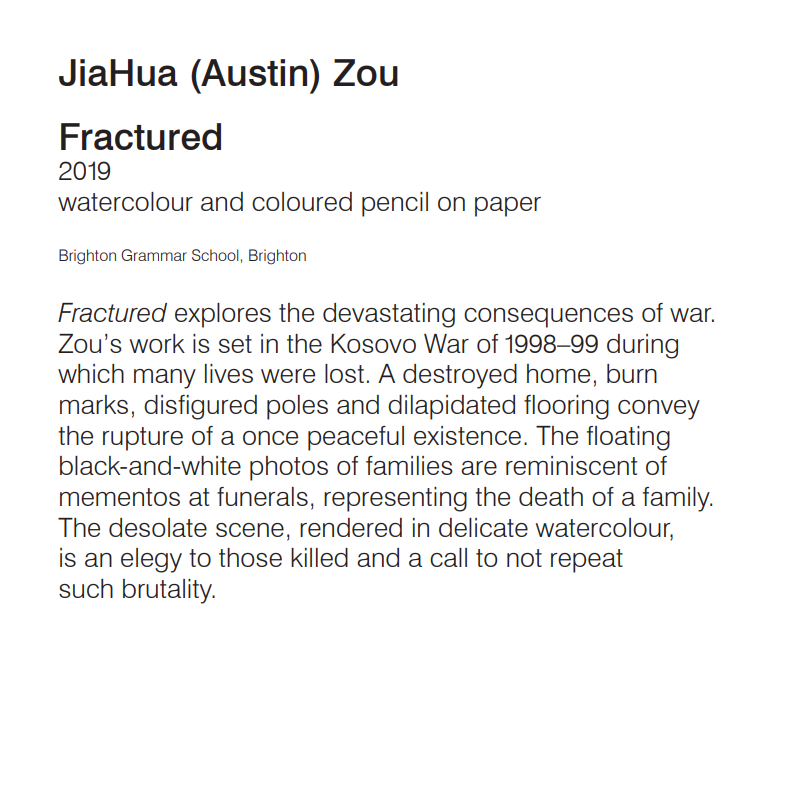 Favourite artist … 
My favourite artist is Yang Yongliang. Using digital manipulation, his photographs depict traditional Chinese landscape paintings with a contemporary perspective. While maintaining the classic composition and the foggy black-and-white aesthetic of the landscape, he adds movement and endows the scene with modern cities and cars to establish a connection with contemporary audiences.
Future plans …
I plan on continuing my art practice by studying a fine art course in 2020 and then pursuing a career as an artist. So far, I have been interviewed by MADA and VCA and I am looking forward to discussing my artwork with teachers at RMIT. I will develop my drawing and painting skills further at university, and I'm excited meet and study with other great artists.
Congratulations to Austin for being shortlisted and making the final selection of Top Arts 2020. We applaud the amazing work by the NGV to showcase student artwork and all the effort to bring it online. Special thanks goes to Maggie Lynch, President of the International Parent Support Group, for her tireless help and who personally drove across town to deliver Austin's artwork during the shortlisting stages last year.