Our People
President
Sam Paynter (OB 1986)
Sam is a second generation Old Brighton Grammarian, his late father Rob being a member of the Class of 1961. Sam has 2 sons at BGS; Will and Ben making the Paynter family a third generation BGS Family. Sam is also a Director of Greg Hocking Real Estate, a major sponsor of the School.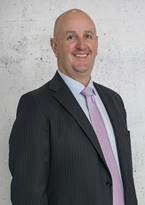 Vice Presidents
Mark Flavell (OB 79)
The name Flavell has had a long association with Brighton Grammar School and the OBGS with Mark's father Graham having attended BGS from 1948 to 1952, Mark and his brother Richard were BGS boys from 1970 to 1979 and 1972 to 1980 respectively. Both Mark and Richard sent their sons to BGS; Sam and Harrison (Mark's boys) and Jay and Beau, Richard's sons. There are currently seven Flavell Old Brighton Grammarians.
Rick Pemberton  (OB 70)
After an education at BGS between 1957 and 1971, Rick joined the OBGS Committee on leaving School. Since then he has served as a Committee man, Secretary and Vice President. In 2001 he was awarded Honorary Membership of the OBGS. Rick joined the Staff of the Junior School in 1975 and still remains today.  Rick has only worked with two Presidents who have been younger than him, so he now looks forward to the younger generations of Old Boys taking a more active role in leading the Society through the next decade.  
Steve Dimer (OB 1996)
Ben Talbot (OB 1993)
Executive Officer
Immediate Past President
Roger Wilson OAM (OB 61)
Roger, a BGS Hall of Fame Inductee and one of four brothers who went to BGS, entered at Year 7 in 1956. Roger was School Captain in 1962 and coached Rowing at BGS from 1967 till 1979 including the 1st VXIII's in the last 5 of those years. Roger played over 200 games with Old Brighton Football Club . For 21 years, Roger was at the helm of Forty Winks Franchising. In 2007 Roger was conducted into The FCA Franchise Hall of Fame. In 2009, Roger was rewarded for his services to rowing, the community and business with the Medal of the Order of Australia in the Queen's Birthday Honours. Roger is now a Consultant. Roger can be contacted on rbwservices@bigpond.com or mobile 0418395946  
OBGS School Council Nominee
Peter Scott (OB 76)
Peter attended BGS from 1974 to 1976. He was a Prefect, Captain of Boats in the history making 1st VIII of 1976 (our first crew to qualify for the Head of the River Final) and received colours for athletics. Nowadays Peter is Sales Director for Murray Goulburn, is married to Janelle, has two teenage children, one of whom (Lachlan) is Yr 12 a student at BGS.  
General Committee
Jim Begg (OB 58)
Member OBGS Committee since 1999, President 2001 – 2002. Jim attended Brighton Grammar from 1946 to 1958. He was a boarder during the last year of the Boarding House, 1954.  Now retired, Jim's career was in the heavy engineering and construction equipment industries supplying the mining and quarrying industries in Australia and overseas.
Tony Evans (OB 71) 

Tony attended BGS from 1960 until 1972. He was active in most sports including, football, First XV111 1971 and 1972, athletics and sailing (BGS international cadets) and the school hiking group. He was a Prefect in 1971 and Captain of the School in 1972, the 90th year.
Tony has been a member of the OBGS Committee from 1973 until 1986, and 2014 to 2016. He was a Vice President between 1981 and 1986, including the Centenary year.
His father, Russell (OB 1942) and uncles, Arthur (OB 1933) and Guy (OB 1938) also attended BGS as have his three sons, Matt (OB 2016), Evan (year 12 and Anthony (year 10)
Nicholas Middendorp (OB 79)
Nicholas attended BGS from Grade 2 in 1969 through to Year 12 1979, (repeated Y12  in 1980). He was actively involved with the cadets, drama and sport at BGS. Three years in the Rowing First VIII and Rugby First XV, Prefect '79 and  Co Vice-Captain of the School in1980. Since BGS, following general store work and time as a roofing labourer, he joined the family business, Middendorp Electric Co P/L in 1982, as a store/driver and today is Director of Operations. Nicholas lives in Brighton with wife Joanne and children, Sophie (Star of the Sea 2011) and Ben (OB 2012). He supports the Wallabies and is actively involved with bay & ocean racing as a crew/club member of a racing yacht based at RBYC. Nicholas has been involved with the OBGS since leaving as a table captain for the Annual Dinners, President of the Meliora Club in the mid 80's and joined the OBGS Committee in 2004. He is also on the OBG Rugby Club committee and was OBGS President in 2005/07.
Headmaster
Ross Featherston