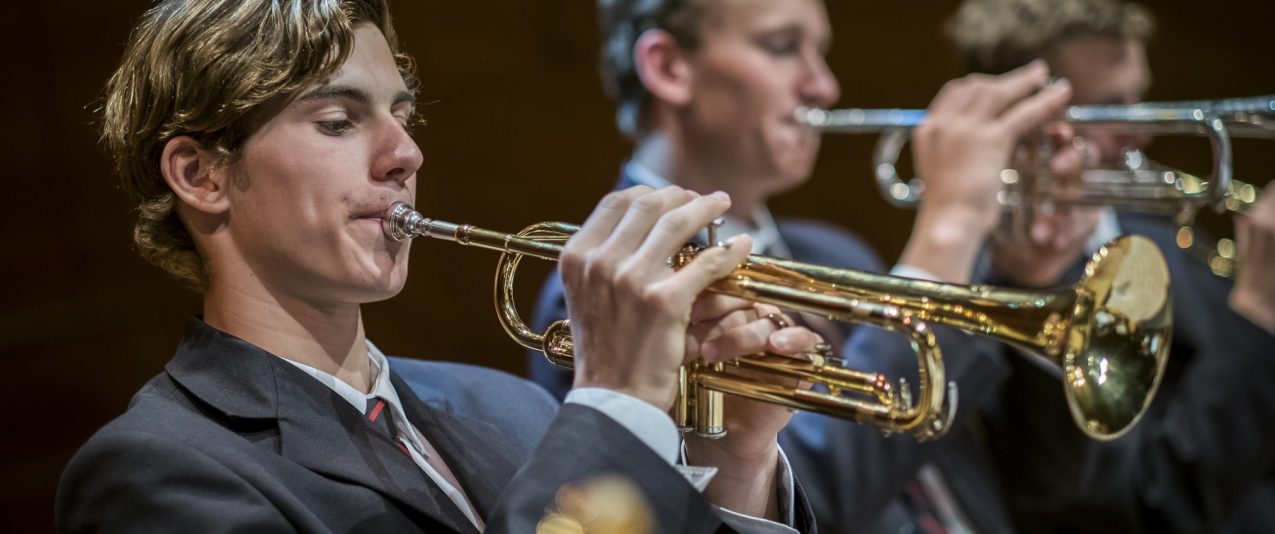 Friends of Music
Friends of Music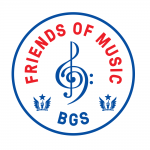 We are a group of parents and teachers passionate about the role of music in your son's life and the benefits that flow from it.  We are committed to providing a nurturing environment that recognises and caters for the different needs of students.  
Some background
Music occupies a central place in cultural life of the School. Over 60% of the boys actively participate in music activities ranging from Choir to Orchestra to Concert Bands.  BGS has over 25 Ensembles. Boys are supported in furthering their training in music, with the provision of private tuition in a wide range of musical instruments and voice; preparation for AMEB exams; and studying Music as a VCE subject up to and including Year 12.  
Purpose of FoM
To raise the profile of music at Brighton Grammar School and within the wider community.
To enrich the musical life of the boys at Brighton Grammar School.
To provide an opportunity for parents to participate in the diverse musical life of the school.
Activity of the Group
FoM gets involved in a diverse range of activities including
Providing refreshments, at school concerts and functions
Providing in-house workshops for students by visiting professional musicians
Raising funds to provide miscellaneous items for the Music School
Get involved
If you like meeting other people, want to contribute to the school community, enjoy good company and love going to musical theatre or opera this might be the group for you!  Why not come to our meeting – always informal and friendly.  
We generally have three areas we need volunteers for, being Stage Crew, Library and General Committee, if you're interested please let us know here!
Fundraising
Did you know that Tony Xie (Year 5), winner of the Junior School 2017 Percussion Awards, was also the winner of the Tuition Raffle run by FoM earlier this year? Following this amazing success story, FoM sponsored a raffle for Private Music Tuition to be used in Semester 1 of 2018 and would like to congratulate Lachlan Molloy (Year 7) as the winner. We hope to make this a bi-annual event to give a boy one semester's private tuition, enabling existing students to explore another instrument or new students to embark on their musical journey. 
Term 2 Fundraising Raffle
Our major raffle is back! Up for grabs is one semester of Private Music Lessons (for Semester 2, 2018) valued at $595. To be drawn at the Year 4-6 Choral and Instrumental Concert at St Andrew's on Tuesday 12 June. 
Get your tickets here. Good Luck!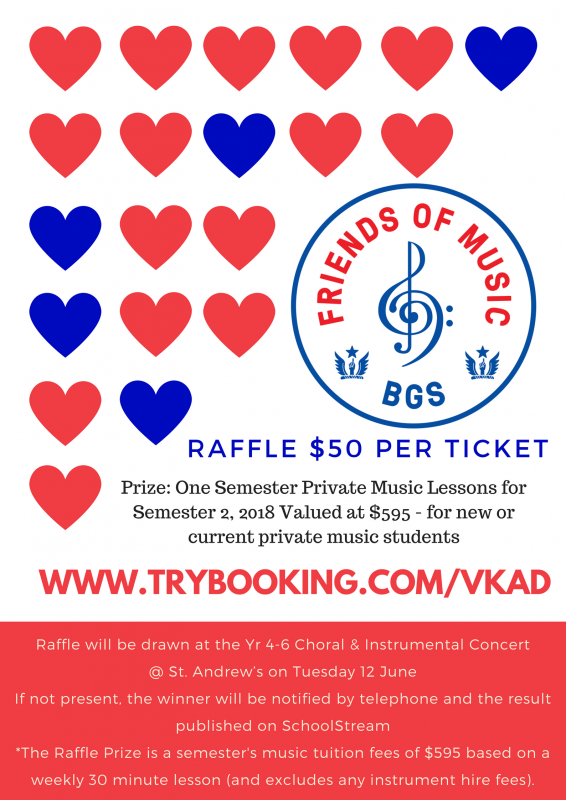 Term 1 Fundraising Raffle results
Congratulations to Bronwyn Thorpe.  Thanks to donors Central Home Loans for providing the Melbourne Victory Tickets as prizes. 
Find out more

Contact Friends of Music President, Suzanne on bgs.fom@gmail.com, suzannedow@bigpond.com
Contact the BGS Music School on 8591 2258 or email music@brightongrammar.vic.edu.au