Our spectacular musicians!
Last week, over 300 students from Years 4–12 performed in the Strings Spectacular and Bands Showcase concerts. These events, affectionately referred to as the 'Journey' concerts, highlight the musical journey that the boys can enjoy as they move up through the various levels of the School. It is also an incredible opportunity for the younger students to witness the skilful performances of our senior-most ensembles.
On Tuesday night, the Strings Spectacular featured our orchestras and chamber string ensembles. Performances included music from several countries and cultures, such as the lively rendition of Taco Time by the Wilson House String Orchestra, which included some lively "olé's" from the orchestra. The Intermediate String Orchestra brought life to the powerful music of John Williams, and the Corelli String Orchestra featured solos from several of our senior string musicians. A highlight of the night was the Senior Symphony Orchestra's performance of Lord of the Dance, a melody dear to many BGS hearts.
The Bands Showcase followed this on Thursday. Our concert bands and jazz ensembles filled St Andrew's Church with the incredible music of composers including John Williams and Stevie Wonder. Film soundtracks featured again, with the Intermediate Concert Band playing highlights from Transformers, and the Wilson House Concert Band performing John Williams' Theme from Jurassic Park – a favourite of many. Senior Big Band brought back the sound of the '70s with Stevie Wonder's Superstition, and the Senior Concert Band closed the concert with a dazzling performance of El Camino Real, a benchmark work in wind band literature, which challenged the boys both musically and physically.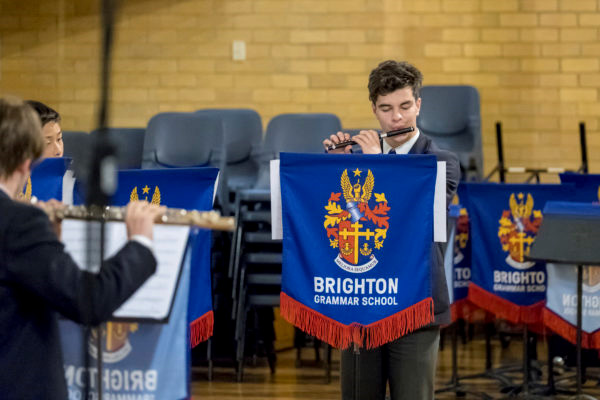 On behalf of the Music Department, I would like to congratulate all of the boys for their terrific performances, which were a testament to their dedication and passion for developing their musical craft. I would particularly like to thank the Year 12 musicians, as for many of them this was their final school concert; their service and contribution to the music program over their time at Brighton Grammar has been remarkable. Finally, I would like to thank the parents of all of our music students, and the wider BGS community, for their ongoing support of the music program. We look forward to seeing many of you at our remaining concerts and the Community Carols Service on 3 December.
Kurt Abell
Acting Head of Instrumental Music, Years 3-12.