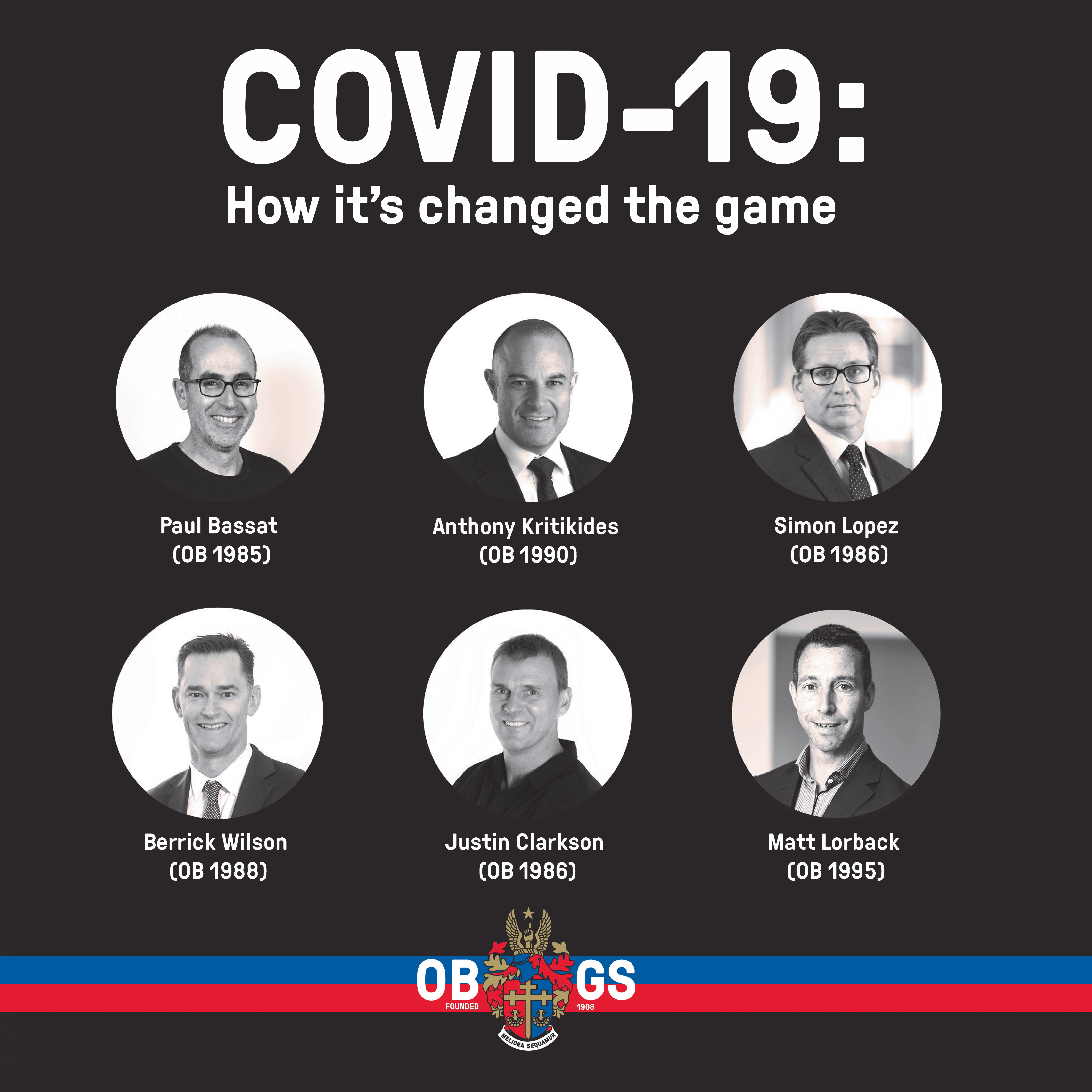 The OBGS Presents
COVID-19: How it's changed the game
Join our expert panel of Old Boys online as they review the impact of COVID-19 on various industries.
13 October 2020
Panel Discussion (Zoom)
Free
Hear how COVID-19 is likely to disrupt the business environment into 2021, with insights from those in the world of tech, entrepreneurship, equities, commercial real estate, restructuring, not-for-profits and even a touch of football. The event will also include opportunities to ask the panel questions.
The event is now available to watch in full below.
Headmaster Ross Featherston will to be online to provide an update on BGS as well.
Please register for this free event and send the panel questions.
Expertly moderated by Simon Lopez (OB 1986) Chief Operating Officer, Asia Pacific – AXA Investment Managers Asia Ltd
Our panellists
Paul Bassat (OB 1985) Co-founder and Partner of Square Peg
Matt Lorback (OB 1995) Partner of ATLAS Infrastructure
Justin Clarkson (OB 1986) Commercial Property Consultant
Anthony Kritikides (OB 1990) Executive Director, Head of Institutional Sales at CBA Global Markets
Berrick Wilson (OB 1988) Managing Director at KordaMentha Real Estate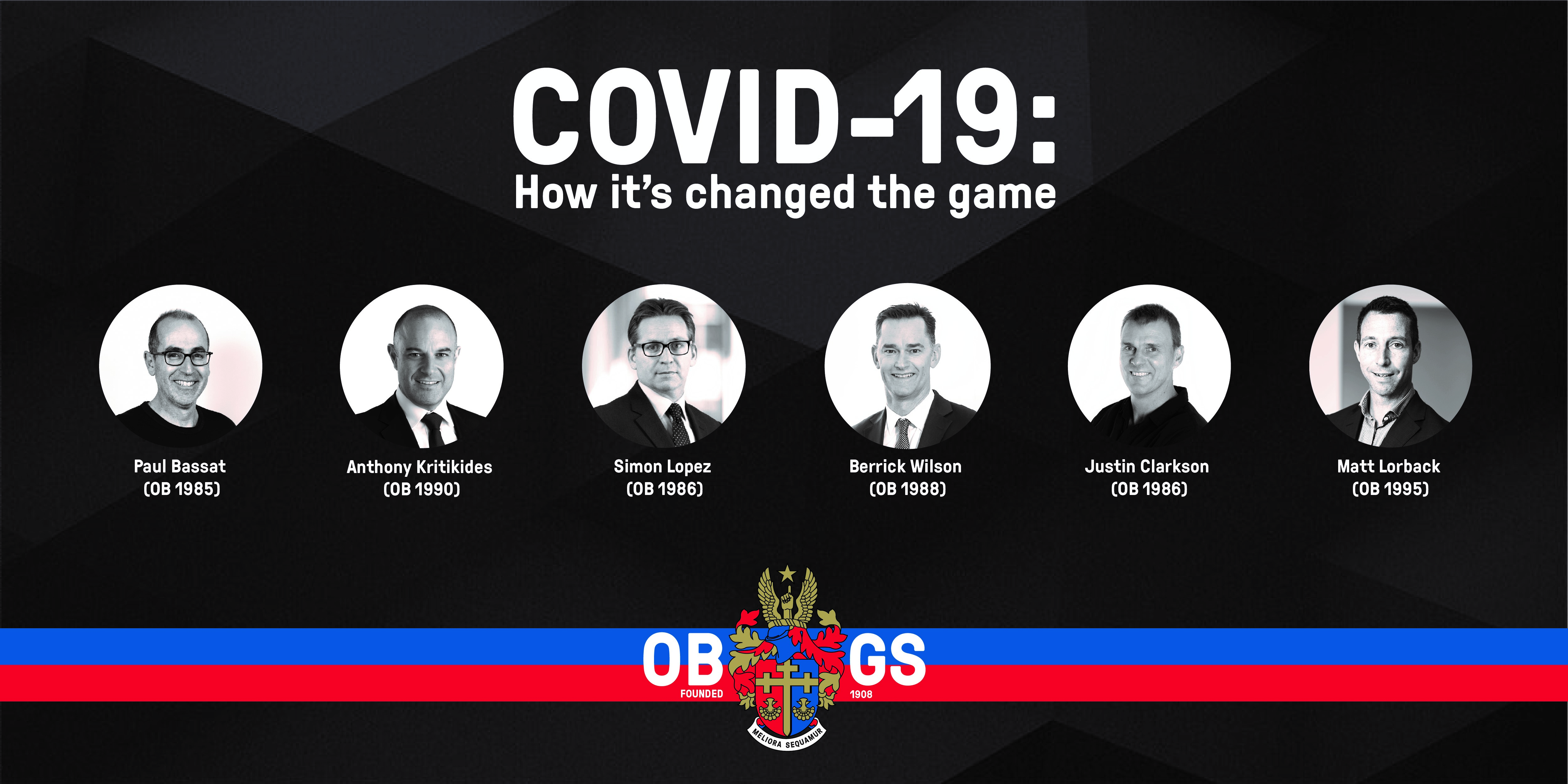 Meet the panel
Paul Bassat (OB 1985)
Paul is a co-founder and partner of Square Peg, which aspires to be the first choice partner for founders in Australia, Israel and South East Asia. Square Peg's portfolio comprises many businesses redefining their markets including Airwallex, Athena, Canva, ClimaCell, Deputy, Finaccel, Fiverr, Property Guru and Stripe.
Paul is a Commissioner of the Australian Football League (AFL) and is on the board of the Peter MacCallum Cancer Foundation and the P&S Bassat Foundation. Paul also served as a director of Wesfarmers from 2012-2018. Paul co-founded SEEK in 1997 and served as CEO and then as Joint CEO from 1997-2011.
SEEK operates market-leading employment marketplaces and education businesses in Australia, China, Brazil, Mexico and throughout South East Asia. Paul started his career as a lawyer and practiced for 6 years. Paul holds a Bachelor of Laws and a Bachelor of Commerce from The University of Melbourne.
Anthony Kritikides (OB 1990)
Anthony is Executive Director, Head of Institutional Sales at CBA Global Markets. In this role, Anthony manages the teams who trade Fixed Income, Foreign Exchange and Money Market products for CBA's Institutional Clients. These clients include Superannuation Funds, Asset Managers, Hedge Funds, Central Banks and Government. Prior to this, Anthony has held various Financial Markets roles at Deutsche Bank, RBC Capital Markets and Westpac.
Anthony has now relocated back to Melbourne, having spent most of his career working in Sydney and London. Anthony holds a Bachelor of Commerce (Honours in Economics) from the University of Melbourne.
Simon Lopez (OB 1986)
Simon is the Chief Operating Officer, Asia Pacific for AXA Investment Managers Asia Ltd. Simon was appointed COO in December 2012 and is responsible for the management of the day to day operations for AXA IM Asia Pacific based in Hong Kong. Prior to this, Simon, who joined AXA IM in August 2003, was the Chief Operating Officer for AXA IM in the UK from 2008 until his appointment to Asia Pacific in 2012. Before that Simon held positions as UK Fixed In-come Product Specialist and Product Manager, where he was responsible for profiling AXA IM's fixed income propositions and capabilities to the UK institutional market and was a key player in Fixed Income product development.
Previously Simon spent seven years working as a Barrister at the Victorian Bar in Australia, before working as a Senior Investment Advisor in Melbourne, Australia. He has Bachelor degrees in both Law and Arts from Monash University in Melbourne and holds a Graduate Diploma in Applied Finance and Investment from the Securities Institute of Australia.
Berrick Wilson (OB 1988)
Berrick is a founding Partner of KordaMentha Real Estate and has nearly 30 years experience in the commercial property industry. Having worked on some of Australia's largest and most complex insolvency and corporate restructuring engagements, he is regularly called upon by financiers, corporations, and government to provide advisory, strategy and transaction management services in high-stakes situations.
Berrick is also the founder and Chairman of the Chain Reaction Challenge Foundation, a not-for-profit organisation that has raised $29.9 million for children in need since 2007, by challenging senior executives to ride a 1,000 week-long course.
Matt Lorback (OB 1995)
Matt is a Partner of ATLAS Infrastructure, a funds management business specialising in listed infrastructure companies in developed markets. ATLAS Infrastructure has offices in Sydney and London and manages around $1.5 billion on behalf of its clients. Prior to joining ATLAS, Matt spent 10 years working at Hastings Funds Management where he was a Portfolio Manager and represented investors on the boards of Perth Airport, Port of Newcastle, Queensland Airports Limited and North Queensland Airports.
Prior to joining Hastings, Matt was a senior executive in KPMG's Corporate Finance practice where he specialised in the valuation of infrastructure assets.
Justin Clarkson (OB 1986)
Justin Clarkson has spent 25 years in the property industry, providing commercial investment and sales expertise to a vast array of clients including developers, private investors, corporates and syndicates.
He was Director of Metropolitan Investments at global real estate firm CBRE for almost a decade before going on to establish Clarkson Commercial in 2016. In 2018 he merged his business with Unified Property Group to offer tailored property consulting services to a select group of clients.