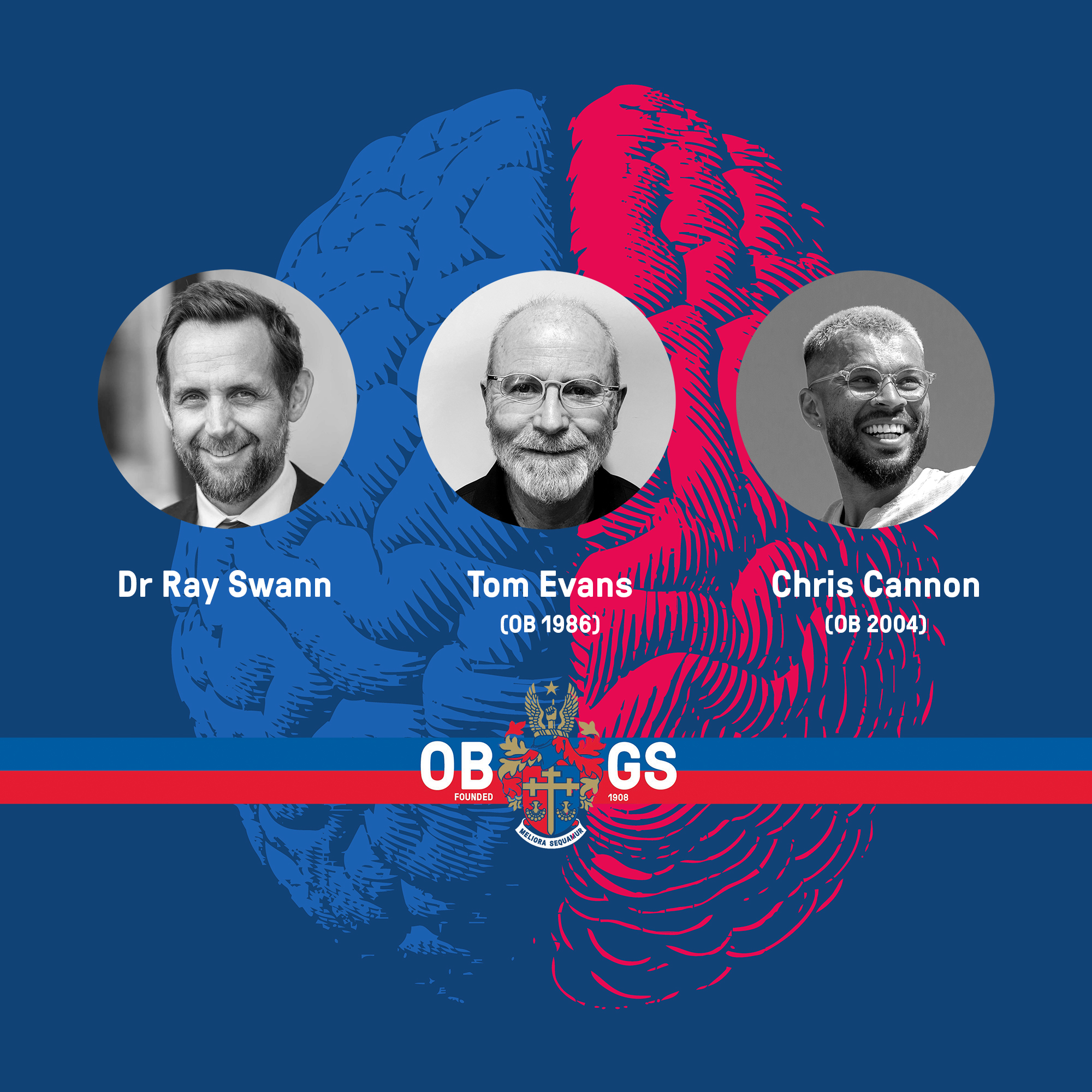 The OBGS Presents
Male mental health – the real stories
Join Old Boys Chris Cannon (OB 2004) and Tom Evans (OB 1986) along with Deputy Headmaster Dr Ray Swann as they discuss wellbeing at BGS, how to talk to your mates, and share their own stories.
15 December 2020
Webinar (Zoom)
Free
Brighton Grammar is committed to supporting the physical and mental health of boys and has implemented an extensive and multifaceted health framework under the leadership of Headmaster Ross Featherston.
This event aims to include our Old Boys in the conversation about mental health and share with them the knowledge of the School, coupled with the expertise of Old Boys in the field.
Tuesday 15 December 2020, 7.00pm via Zoom
Register for this free event and send the panel any questions you have. Can't make it on the night? Register and we'll send you the recording.
Meet the panel
Chris Cannon (OB 2004)
Chris Cannon has a burning passion for helping people take control of their training, nutrition and mindset. What started as a personal journey to lose 40kg in his final years at school, today Chris is the founder of Life Hub (Australia's highest rated Independent Fitness Studio), qualified Trainer of 15 years, Nutrition Coach (Pn1) and Neurolinguistic Programming Consultant (GradCert NLP). Chris has worked alongside industry leading brands including Lululemon, Run Melbourne, Gary Peer and Monash Hospitals, amongst many others, to share strategies to get the most out of the body and mind. Chris will share some of the learning's from his journey to date, as well as a business owner and male in the current climate.
Tom Evans (OB 1986)
Working for over 20 years as a psychologist both in private practice and consultancies in diverse fields and industries, with an expertise in men's mental health. "Work and love – that's all there is" is a life motto of Tom's which gives permission, and the challenge, to do what you love always. Now flourishing in a marriage with three teenage kids, it has nonetheless been a journey to get there. Tom will share a little of his own story, as well as the many journeys of other men he has been witness to and supported in their struggles and triumphs.
Dr Ray Swann
BGS' Deputy Headmaster and Head of the Crowther Centre for teaching, learning, wellbeing and research. In 2019 he was recognised by The Educator and University of Melbourne for 'leading generational change' in Wellbeing and in 2020 he was awarded an ACEL scholarship for leadership. Through the work with his team, he co-designed the framework for Positive Masculinity (+M) as well as co-authored papers looking at best practice in boys and wellbeing. His research interests extend into his work as an Honorary Fellow at the University of Melbourne (Medical Education) and Honorary Lecturer at the RMH where he has recently co-authored a book chapter on men and help seeking behaviour.