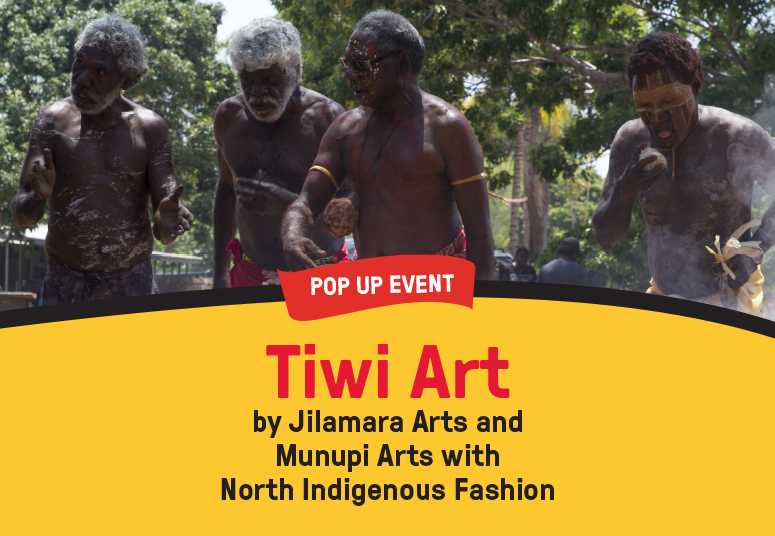 Brighton Grammar presents
Tiwi Art Pop Up
Ngawuyati Nganuwaluwa Ngirramini (Together sharing stories)
27-28 February 2021
The Wellbeing Centre
Free
Ngawuyati Nganuwaluwa Ngirramini (Together sharing stories) brings together several generations of Tiwi artists, in an event that celebrates an ongoing and rich relationship between the Brighton Grammar School and the Tiwi Islands. 
Coinciding with a major retrospective of Tiwi art at the National Gallery of Victoria, the works on show demonstrate a visual celebration of living culture, artmaking and production.
Organised by Tiwi governed art centres Jilamara Arts and Crafts Association in Milikapiti, Munupi Aboriginal Arts and Crafts Association in Pirlangimpi and the indigenous fashion label North, this event will present a cross-section of the creative arts being produced on the Tiwi Islands.
Continuing to work with natural white, yellow and red ochres the artists involved are nationally and internationally renowned for their unique, Tiwi style and colour palette. They produce contemporary works based on jilamara (body painting designs), clan totems and Tiwi creation stories.
Recent developments in hand screen printed fabrics and collaborations such as the Tiwi Strong Women's Collection with North, highlight the poignant relationship between contemporary indigenous fashion and the body paint design origins of Tiwi mark making styles.
Many Brighton Grammar students have visited Melville Island and Milikapiti Primary for some years and this pop-up event presents an exciting opportunity for the artists from these areas to share their work with this broader community in Victoria.
Due to COVID-19 restrictions, you will be required to pre-book your session time for this event. Bookings will open on Thursday 18 February.
Image:
Calistus Babui, Toni Pilaqui, Marius Puruntatameri, Pedro Wonaeamirri dancing Pukumani ceremony at Pedro's house for his son, Milikapiti, Melville Island 2019.
Photograph courtesy of Jilamara Arts, photographer Will Heathcote.