Experience of a lifetime
Being a ball kid at the Australian Open was a once in a lifetime opportunity.
From thousands of applicants and a number of trials throughout the year, only 380 kids have the opportunity to be on court and stand inches away from some of the greatest tennis players to date. This opportunity is open to anyone from the ages of 12 to 15. My first tournament was when I was 15 in 2020. Due to COVID-19 restrictions, I was invited back to participate again in 2021.
Working on Rod Laver Arena, Margaret Court Arena or any other show court isn't about luck. The court you are on is chosen by your supervisors every day, based on your performance on court the previous day. This year, I was lucky enough to be selected for JCA twice, Margaret Court Arena once, and Rod Laver Arena an incredible four times.
It was very different this year with the limited crowds and, in the middle of the tournament, none at all. One special moment was my first time walking onto Rod Laver Arena with players such as Domenic Thiem, Serena Williams and Naomi Osaka; just the fear and excitement knowing that there was a supervisor watching my every move, and excitement and joy interacting with names such as those.
My most memorable moment was my third time on Rod Laver Arena, on court with Rafael Nadal and Stefanos Tsitsipas, in a quarter final match which was then followed by the Quads Wheelchair Final, featuring former BGS Old Boy Dylan Alcott. It was memorable for a number of reasons.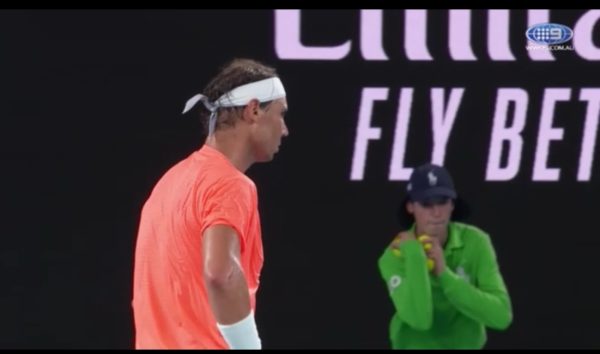 Firstly, Nadal is my favourite tennis player and being that close to him was a dream come true. With the match going to a fifth set, I was standing next to Nadal whilst the match slowly slipped away from him and the only thing I could do was to do my job as quickly and efficiently as possible, trying to not put him off.
Secondly, you can actually hear what the players are saying to themselves to lift their game and witness their set ways and traditions.
Finally, with the most recent lockdown, I was one of only about 15 people in the entire stadium to watch that match live. Sadly, I wasn't able to speak to Dylan after his amazing final, when he dropped only one game, but it was still a night I will never forget.
I also want to thank the School for being so supportive of me through this whole journey.
George Thompson 
Year 11 student