Kutcha Edwards visits BGS
Indigenous Australian singer and songwriter, Kutcha Edwards, visited BGS in November in conjunction with NAIDOC Week.
I was in the audience of Year 9 History students studying the history of the Stolen Generations, and in a few weeks we would be facing an examination question requiring us to evaluate the significance of the 2008 National Apology.
We knew that Kutcha had been one of many indigenous children separated from their parents during this sad period in Australia's history, and we were keen to meet him and hear his story.
Kutcha showed us and spoke about a photograph of him with then Prime Minister Kevin Rudd. It had been taken a year or so after the Prime Minister's historic apology had been given in Federal Parliament. Kutcha pointed out that he, unlike PM Rudd, was not smiling. He wanted us to know that the apology meant different things to different people.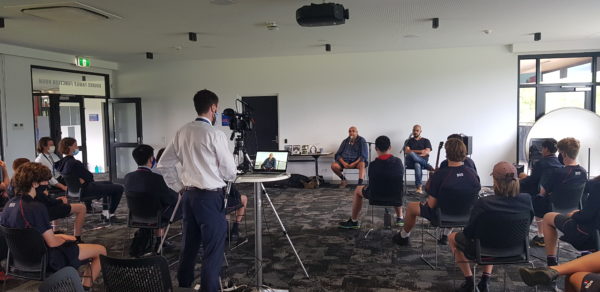 He talked to us about his own experience of being stolen, being taken from his family at an extremely young age of only 18 months old. From what he told us on the day, it proves how wrongful the actions towards the stolen generation were and how a simple apology isn't ever going to be enough to fix all the damage and hurt, not only of Kutcha, but all victims of the stolen generation who have had to live through all of the trauma they experienced.
On the day, Kutcha's family gathered together to hear the words of the apology. He recounted to us how it was an emotional experience for everyone. For the first time, 71 years after the racist policy of assimilation was created to produce the stolen generation, the Federal Parliament was apologising for those past government actions.
However, Kutcha pointed out how easy it is to just say some words, and unless actions are taken to actually help victims of the stolen generation and Australians respect indigenous people and culture, the apology would prove hollow.
The most important message I took from Kutcha's visit was that, while the apology was a step in the right direction, all of the hurt experienced by the victims of the stolen generation is not going to just disappear, and even while the country as a whole felt reconciled for the despicable acts of the stolen generation, the lingering after-effects of the stolen generation are still present today.
Tom Gianatti (Year 9)