Martial arts strengthen intercultural awareness
Language teaching is as much about introducing students to different cultures as it is about learning the language itself. The more engaged students are with realistic and meaningful activities in the targeted language, the better they understand it.
To give students an authentic and age-appropriate understanding of Chinese culture, we invited a professional martial arts teacher Chen Yuan Xin, who has taught in the US and Indonesia, to teach the Year 8 boys Shaolin-style martial arts. The activity was designed to activate an interest in martial arts while helping the boys build a strong awareness of Chinese traditional culture.
Ms Chen emphasised respect for all people, the cultivation of the mind and self-protection, and the boys displayed positive and productive interaction throughout the lessons. The highlight for the Year 8 boys was the physical aspect – kicking and moving. The boys learnt quickly and enjoyed showing off their new skills. At the same time, these fun lessons were encouraging physical and mental relaxation and increasing the boys' self-confidence.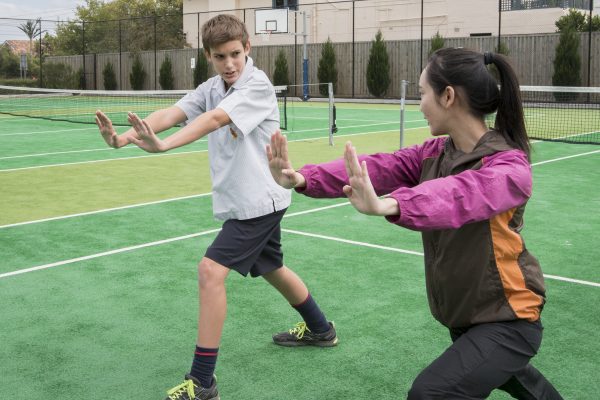 Of course, greeting and instruction is in Chinese and the boys are always made aware of what they have achieved and know how to move forward. However, perhaps more importantly, martial arts provide an excellent opportunity to introduce intercultural elements to language learning.
For example, when discussing the similarities and differences in Japanese Karate and Chinese Shao Ling martial arts, and most of the boys were able to notice and discuss differences and similarities between the two cultures. Sharing these kinds of valuable experiences encourage students to reflect on their own cultural heritages and value their own identities.
Linda Chen
Head of Middle School LOTE