The Great Sphero
After being closed for some exciting and long-awaited renovations during Term 3, the new Junior Library space was finally revealed this term.  The light-filled, flexible learning space incorporates reading nooks, collaborative work spaces, a 'campfire' couch and a purpose-built 'Experience Room' for coding, robotics, animation and film-making – including a feature-painted 'green screen' wall.
The impact of the new space on the boys has been clear, and many have proudly given their parents a guided tour after school.  The new space integrates a flexible, collaborative environment with a range of resources and tools to assist in the development of essential 21st-century skills: creativity, collaboration, communication and critical thinking.  The Experience Room allows more than one class to use the space without impact on the main Library area. 
The new funky furniture, low display shelves and open plan are easily altered depending on the needs of the students and teachers. Individual, small-group and large class groups, or a combination of groupings, can be accommodated, increasing opportunities for active, participatory, experiential learning as well as learning experiences that require independent study and work.
To promote a love of literature, classes have resumed their weekly 'browsing and borrowing' sessions.  It is a delight to see the flexible spaces created by the boys for private and social 'book-look' groups during these sessions and at lunchtime.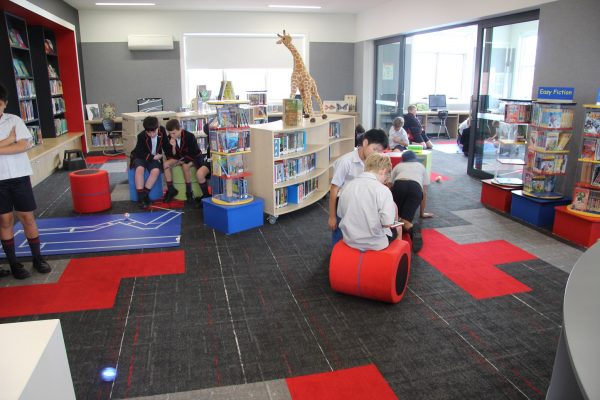 The integration of robotics, coding, animation and film-making into our curriculum has certainly increased the boys' engagement in their learning. The Experience Room has enabled many amazing experiences already! To name just a few: the Year 1 video '1 Heath's Great Aussie Adventure' using green screen technology (click here); the Year 5 student-led 'Great Sphero Smack-down Maze Challenge'; the Year 3 and 4 Coding Club held weekly at lunchtime; and the Year 6 boys' use of coding, robots and angles to supplement their learning in Maths.
We look forward to sharing more of the opportunities and experiences that this wonderful space offers in 2018 and beyond.
Pauline Anthony
e-Learning Coordinator – Junior School