What, no fish?
Last week, eight Year 6 boys spent eight days at the Milikapiti School on the Tiwi Islands, continuing the program begun in 2010. The boys spent time in the four classrooms from pre-school to Year 6, working closely with the local students. Both the boys and the staff were overwhelmed by the kindness of the locals, especially the students.
As well as spending time at the School, the boys visited some of the local sites and learnt about the history and culture of the Tiwi people. Visits to 9 Mile and Taracumbi Falls were welcome (croc-free) escapes from the heat. Fishing at Tim Ram Bu and Karslake allowed the boys to test their skills with the hand reel and build some patience, as the fish were just not biting on the day!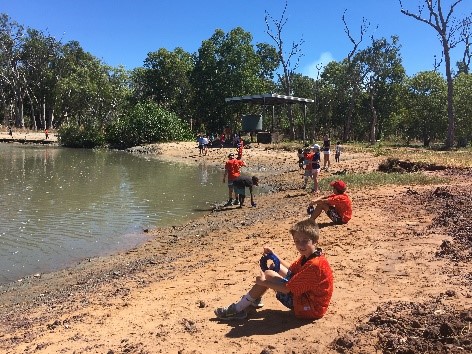 The relationships that the boys developed have only strengthened our relationship with this remote Indigenous community. All of the boys are eagerly awaiting the arrival of a small group of Milikapiti students when they visit us later this year.
Luke Fensling
Year 6 Classroom Teacher