Experience BGS Boy for the day
Experience BGS Boy for the day
For boys currently in Year 5

Be a BGS Secondary School

Boy for a

Day
For boys in Year 5 to try out our Year 7 program. 
Our next Boy for a Day date is Thursday 1 September. 
A unique opportunity for boys currently in Year 5 to be a part of everything we do at Brighton Grammar. 
See our teachers, try our programs, meet other boys and be a BGS Boy for a Day.
This tailor-made program will give your son the opportunity to be involved in hands-on activities in Science, Design & Technology, Maths, Wellbeing as well as a session in our indoor adventure playspace Invicta.
Boys and their parents will have the opportunity to spend time in the Junior School and Secondary School. 
Once he joins, he'll never want to leave.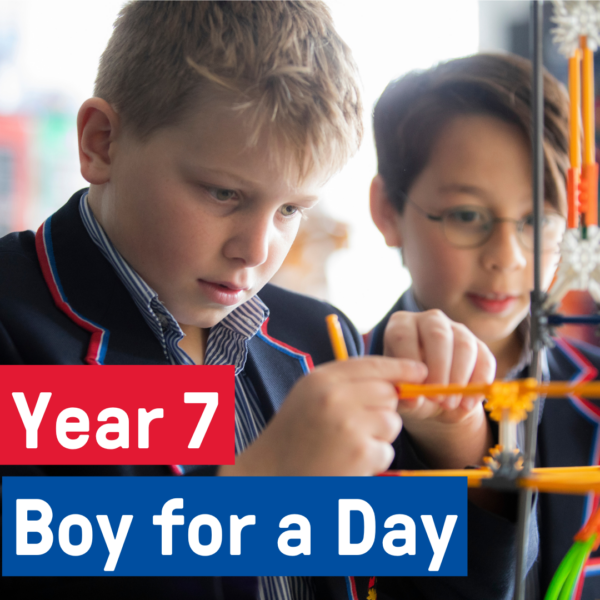 When: Thursday 1 September 2022
Drop-off: 9.00am – Brighton Grammar Junior School, 29-31 Grosvenor Street Brighton
Pick-up: 3.00pm – Brighton Grammar Secondary School, Allee Street Brighton
Who: Open to boys currently Year 5
What you'll need:
Morning tea, lunch and a water bottle
Smart casual clothes including runners for sport
Hat
Questions? 
8:50-9:00
Arrive at Brighton Grammar Junior School (29-31 Grosvenor St, Brighton)
9:00-9:15

Meet with Deputy Headmaster, Head of Junior School – Peter Tellefson
Parents are invited for a tour of the Junior School (optional to attend and will run for approx 30 mins)

9:15-10:15
PE in Invicta (Junior School)
10:15 – 10.45
Morning Tea
10:45 – 2:45
STEM, Design and Technology, Maths, Games (Urwin Centre, Secondary School)
12:30-1:30
Lunch
2:30-3:00
Parents are invited for a tour of the Secondary School (optional to attend and will run for approx 30 mins) with the Deputy Headmaster, Head of Secondary School – Simon Angus
3:00
Boys collected by parents at Urwin Centre reception
(Allee Street, Brighton)