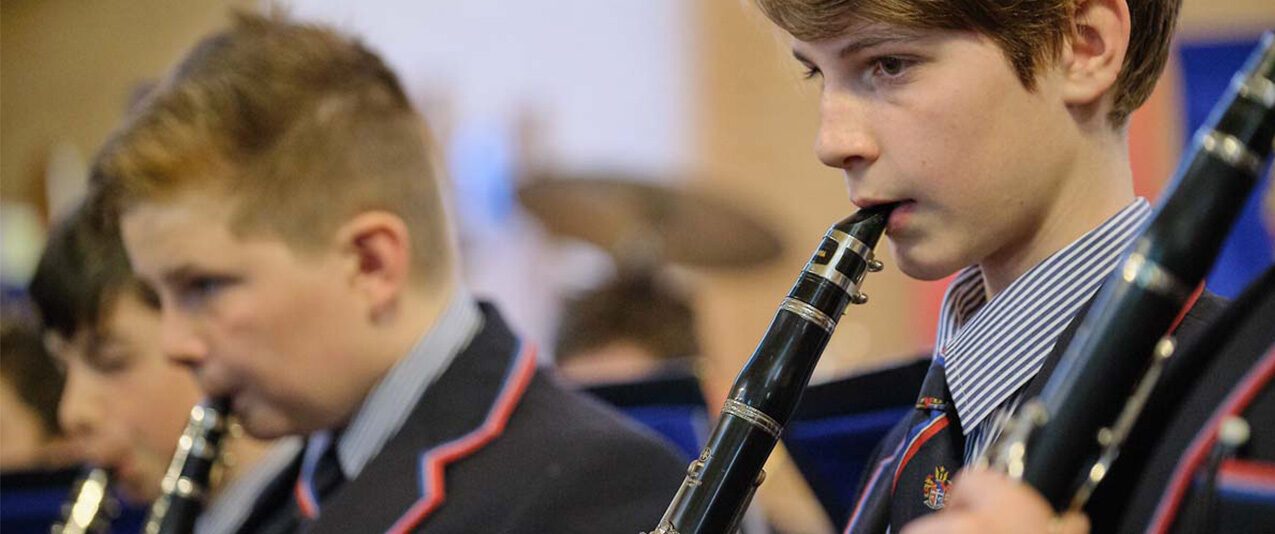 Co-Curricular
BGS provides a broad range of additional activities for the boys to pursue. Sport, debating and public speaking are undertaken by all Years 7 & 8 boys, while a host of other activities are encouraged.
Boys are also strongly encouraged to be involved in activities with Firbank Grammar girls such as Chess, Book Club, Drama and Philosophy Colloquiums.
Year 7 Outdoor Education Program
The Year 7 Outdoor Education Program is held during Term 1 at Point Leo.
During the program, boys will be involved in a variety of activities including overnight camping, challenging bush walking, camp cooking, raft construction and various beach activities.
A surf safety skills session, team building and problem solving activities and community living is also undertaken.
The program involves developing a sense of belonging and forging relationships with peers and staff, in turn setting a platform for a positive and productive year ahead.
Sport
Participation in the APS interschool sports competition during the Summer and Winter seasons is compulsory. Boys choose one sport per season from the following options:
Summer: Badminton, Cricket, Diving, Sailing*, Swimming, Tennis and Touch Football.
*Sailing is available to highly experienced sailors
Winter:  Basketball, Cross Country, Football, Hockey, Rugby and Soccer.
In Spring (mid-August to mid-October), participation in school sport is not compulsory although actively encouraged. Options for Spring are Athletics and Water Polo. Boys who are keen on skiing are encouraged to join our Snow Sports team to compete at Mt Buller in August.
There are a number of teams available in each of these sports to cater for individual sporting abilities within the year group. As a general rule, boys can expect to be involved in school sport every Saturday morning throughout Terms 1 and 2, and up until the end of July in Term 3. There is no school sport on long weekends during these terms and the vast majority of school sport is completed by Midday on Saturday. Summer sport resumes in October. During Term 1, training is held on a morning before school from 7.00am (except Diving & Sailing). This day for 2019 will be communicated to parents before the end of the year.
Winter training afternoons for Year 7 boys are usually either Monday, Tuesday or Wednesday and the frequency of training will vary between once or twice a week, depending on the level of the team and facilities available. Training is usually completed by 5.15pm. When training is off-campus, buses will be provided to transport boys to and from the training venue. For the Saturday competition, buses are provided only to Geelong Grammar, Geelong College and Haileybury Berwick. Otherwise it is expected parents will transport their sons to Saturday sport. Participation in parent support groups is also encouraged.
Weekly sports information, including team selection and fixtures, can be accessed via the BGS School Stream app and The Hub.
Music
Classroom Music and Choral are studied by all Year 7 boys with the aim to develop a love and appreciation of contemporary and classical music. These programs are timetabled as part of your son's curriculum. The courses promote the exploration of music as an art form through singing, listening, composing, analysis and performing.
The school also encourages all new Year 7 students to be involved in the School's 'Beginner Instrumental Program' (BIP). This program complements the classroom experience and allows boys the opportunity to specialise in learning a band or orchestral instrument. This is at no extra cost to parents and is a wonderful opportunity for the boys.
Beginner Instrumental Program (BIP)
For new Year 7 boys only
28 x weekly group lessons timetabled over the four terms
Lessons rotated through the timetable so boys do not miss the same class each week
Compulsory participation in an ensemble – rehearsing Thursdays from 3.45-4.45pm
Instrumental teachers will recommend an appropriate time for boys to move into an ensemble once they have the necessary skills
The school encourages boys to continue with private lessons in Year 8 and beyond
Instruments available are: flute, oboe, clarinet, bassoon, trumpet, French horn, trombone, euphonium, tuba, violin, viola, cello & double bass.
Please note that all boys will complete testing for music on their orientation days, which will also identify instruments they display an aptitude for. We will then contact new parents separately to this information. Instrument allocation is limited and not all first preferences can be guaranteed. Guitar, piano, saxophone, percussion are not offered as part of the BIP. If students wish to learn these instruments, they will need to enrol in private music lessons, also available at BGS.
Music Bursaries
A limited number of Music Bursaries are on offer to all Year 7 students in 2019. The Bursary covers all individual music tuition and instrument hire fees from Years 7-10.
Bursaries are offered for specialised instruments such as French horn, tuba, double bass, bassoon, oboe, trombone, viola, euphonium & violin.
You should apply for a Music Bursary if:
Your son has experience on any of these instruments listed above
Your son is interested in playing one of these instruments listed above
After applying, your son will be required to undertake music aptitude testing and an interview conducted by the Music Department.
Information regarding this Music Bursary in 2020 and how to apply can be found here (PDF).
Private Instrumental Lessons
Students who already play an instrument, or those who wish to learn an instrument, are encouraged to enrol in private instrumental lessons and learn here at school. Application forms are available here (PDF). Instruments available through Private Instrumental Lessons are: flute, oboe, clarinet, bassoon, saxophone, French horn, trumpet, trombone, euphonium, tuba, percussion, singing, guitar, piano, violin, viola, cello and double bass. These lessons are charged to parents and are rotated through the timetable so boys do not miss the same class each week.
Choir – Meliora Voices (Year 7 and 8 Choir)
We have a strong culture of singing at Brighton Grammar. There are over 50 boys in Year 7 and 8 who sing with our choir, Meliora Voices. This choir rehearses once a week before school from 7.30-8.15am and all boys are encouraged to participate – all new choristers are welcome. For more information, contact the Music Department via music@brightongrammar.vic.edu.au.
Drama and School Production
All Year 7 boys study Drama as part of the curriculum and are encouraged to become involved in the annual School Production with our sister school Firbank Grammar.
Boys involved as cast members develop self-confidence, group cooperation, problem solving and social skills. Boys who do not want to act can become members of the production crew and learn about set construction, lighting, sound, props, costumes and make up. These stagecraft areas allow students to develop responsibility, group cooperation, initiative and the understanding of theatre technologies and craft. 
In 2020, a whole Secondary School (7-12) production is being organised for the first time. The production for 2020 has just been announced as 'Matilda the Musical!'. New Year 7 boys interested in taking part will be able to audition during Term 1, 2020.
Debating and Public Speaking
Our Debating program offers every boy in Year 7 the opportunity to participate in Class Debates. The Debating program usually runs over two weeks during English classes and is conducted after all boys in Year 7 have been provided with formal training in debating procedures and techniques from external DAV trainers.
Boys also have the opportunity to take part in our Interschool Debating program with Firbank Grammar, once a term.
The Debaters' Association of Victoria (DAV) runs a Junior Secondary Program which begins in Term 3. Keen debaters from Year 7 and 8 are encouraged to nominate for a place in our teams. The DAV Junior Secondary Program is held after school and involves travelling. In addition to this, a select group of students participate in the DAV regional Public Speaking training program and competition.
Combined Activities with Firbank
At BGS we know boys have unique learning needs, and recognise part of a rounded education is the ability to work collaboratively and build social connections with girls.
One of the special components of the BGS Year 7 program is the experience of combined days and events with Year 7 Firbank girls. The program includes academic experiences and social events planned and supervised by staff from both schools.
Clubs and Activities
Our staff organise clubs and activities throughout the school year. These include: Book Club, Chess Club, Art Club, Design Club, Media Club, Service Committee, Library Committee and F1 in Schools.
Philosophy Colloquium
A Philosophy Colloquium is held three times a year as an important part of academic enrichment for students and is aimed to enhance the development of metacognitive skills. The kinds of subjects considered in the Colloquium may range from abstract conceptual questions – such as, 'What is Truth?' or 'How Do We Know?' – to questions about the philosophy underpinning the development of individual human rights laws, as embodied in the Universal Declaration of Human Rights.