F1 in Schools – Two more Champions
Continued success at State Championships.
Over the past 3 days BGS teams have been competing in the 2022/23 F1 in Schoools State Championships held at Wyndham Tech.
Approximately 30 teams from around the state attended the event with a range of events for each team such as Car Scrutineering, Engineering Presentations, Marketing and Verbal Team Presentations plus the physical car racing where the cars speed down the 25m track in 1.1 seconds.
We had 2 teams entered this year with Year 8 team Lunar in the Development Class and Year 10 team Phantom in the Senior Professional Class.
With our success earlier in the year at the 2021/22 National Finals the pressure was on and the new boys were pumped for another tough week of competition.
Both teams performed amazingly well under pressure and both have managed to qualify for the 2023 F1 in Schools National Finals in Sydney in March next year.
If they can finish in the top 2 at that event they could be joining Constellation and Livewire from BGS at the Combined World Finals for 2022/23 in Singapore in September 2023.
Both new teams were consistent across the 12 judging categories and each managed to win awards in a number of categories.
Well done to both teams on a great result following months and months of hard work and dedication.
Also a big thanks our National Champions Constellation Racing for helping on each day running the track for the event.
Jenson Galvin, James Mitchell, James Tan and Matthew Westerman did the school proud as ambassadors at the event and have done a fantastic job mentoring Lunar and Phantom throughout the year.
A massive thanks to Jamie Watson and Thivi Athipar for their dedication to the program and also thanks to Christian Neeson for his ongoing support.
Thanks must also be given to REA for running another amazing competition.
Results from this week's 2022 F1 in Schools State Finals are as follows:
Phantom Y10 – Professional Senior Class – State Champions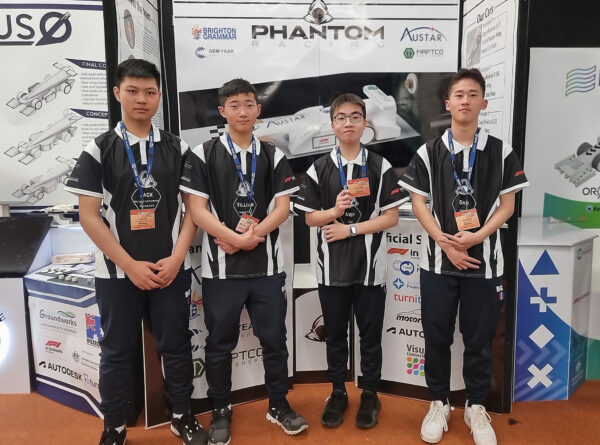 Awards – Outstanding Industry Collaboration, Best Team Verbal Presentation and State Champions
Team Members
Andy Cheng – Team Manager
Dan Zheng – Design Engineer
William wang – Marketing Manager
Jack Pan – Manufacturing Engineer
Lunar Y8 – Development Class – State Champions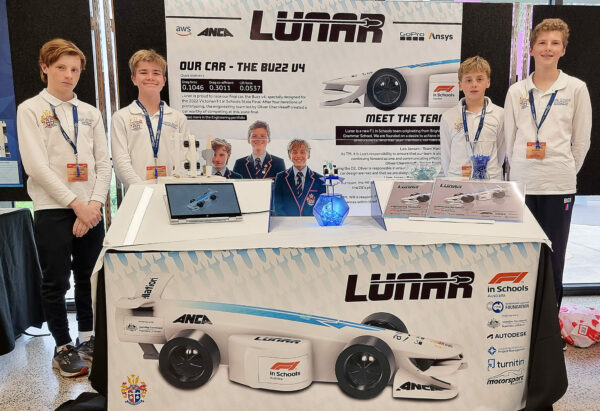 Awards – Innovation Award, Best Team Verbal Presentation, Best Team Portfolio, Knockout Champions, Best Team Trade Display, 1st place Grand Prix Racing, Best Team Marketing and State Champions
Team Members
Will Church – Design Engineer
Oliver Chernikeeff – Manufacturing Engineer 
Leo Jansen – Graphic Design
Liam Jones – Team Manager